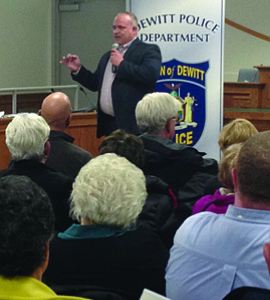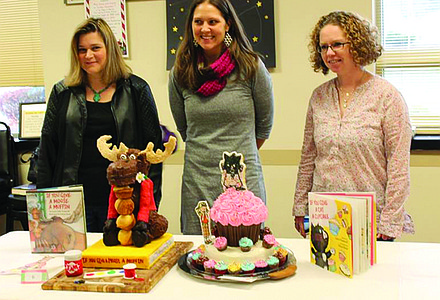 Tue

Wed

Thu

Fri

Sat

Latest stories
The Town of Manlius Police Department is currently investigating two residential burglaries that occurred on Nov. 18 and 19.

It was standing room only on Monday, Nov. 17, at DeWitt town hall for a community meeting led by the DeWitt police department concerning the rise in home burglaries in certain areas of the town.

The second annual Literary Cake-off event brought great creativity and baking skills to the Manlius Library on Nov. 16.
The Village of Fayetteville Board of Trustees has voted unanimously to approve an update to the comprehensive and design plan of the village, which was presented at a preliminary hearing at board's Nov. 10 meeting.
Residents in the town of DeWitt can expect a tax rate increase this year by 1.5 to 1.8 percent, according to the preliminary 2015 town budget.
Looking for a fun way to enjoy the holidays with your family while helping out local organizations and charities? The town of Manlius is providing an opportunity for this by bringing residents and local organizations together in their first Holiday Lights, Camera, Trees event from 6 to 8 p.m. on Friday, Dec. 5, at Four Season Golf and Ski.
A holiday concert featuring the CNY Flute Choir will be held at 4 p.m. Sunday, Dec. 7, at Manlius United Methodist Church. The program will include selected music from Handel's "Messiah," familiar Christmas music including "Carol of the Bells" and "Silver Bells," Ricky Lombardo's jazzy "Christmas Fantasy," and more.
Jared Shepard to begin his duties Nov. 24
After an extensive search process, The United Church of Fayetteville has hired Jared Shepard to play the organ and be the director of music ministries.
The town of DeWitt, in conjunction with Onondaga Earth Corps, Cornell Cooperative Extension, People In Action and residents and management of Springfield Garden Apartment Complex, joined forces to plant 22 trees along Caton Drive in DeWitt in mid-October.

Manlius resident and town councilor Karen Green last week received the Citation of Alliance Member Service to the Community award from the Onondaga County Medical Society
On Nov. 14, the Town of Manlius Police, in its pursuit of traffic safety, conducted a DWI checkpoint in the 6900 block of Kirkville Road.
The spicy aroma of wassail, the shimmer of handbells — it's "Christmas at Lorenzo," and the magic of the holiday season takes flight this year in each room of the mansion. From peacocks in the formal dining room, to cardinals in the gentlemen's library, the artistry of volunteer decorators will bring the theme "Birds of a Feather" to life in every room.

Late goals lead to 2-1 state Class A semifinal defeat
Mere minutes away from a berth in the state Class A championship game for the second time in three years, the Jamesville-DeWitt girls soccer team saw the whole thing fall apart - due in some way to the strong work of its opponent, but also due to a call that will sting for a long time to come.

Have you ever wanted to know more about how your local municipal government works or how to become more involved? The village of East Syracuse held an open house last week to answer these questions and to engage and inform residents about their local government. On Nov. 5, residents were invited to visit the village of East Syracuse municipal office, located on 204 North Center St., East Syracuse, to meet with local officials and learn more information about the government.