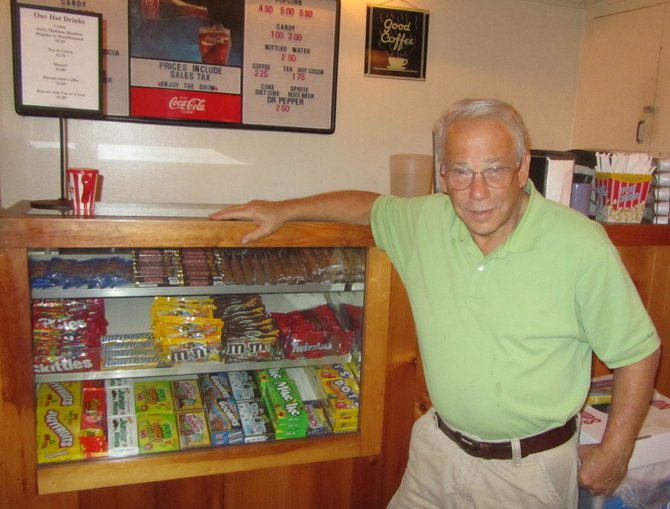 Nat Tobin has owned and operated Manlius Art Cinema in the village of Manlius for 19 years. He also ran the Westcott Theatre in Syracuse for 10 years up until 2007. Since marrying Eileen Lowell five and a half years ago, Tobin has run the Manlius Arts Cinema with her assistance. "She married me and the theatre at the same time," he says. The couple lives in the Carriage House apartments.
According to Tobin, the Manlius Arts Cinema, built in 1918 to show silent films, is the oldest cinema in Central New York. We spoke with Tobin last week about his passion for his work at the theatre — what he calls the "best gig that anybody could possibly have."
Eagle Bulletin: Would you say you have a passion for film?
Nat Tobin: I definitely have a passion for what I do. I think this is the best gig that anybody could possibly have. To be able to bring a product to an area that nobody can see elsewhere, and have the public appreciate it — there's nothing better.
What about the art film genre do you find interesting?
These films are made for a more sophisticated audience. They're more thought provoking. That I find the most valuable to our customers, to our patrons, is that when they walk out of the movie theatre they have something to talk about.
Do you have an all-time favorite film?
It's hard to pin down an all-time favorite film, because I have favorites in every genre. Favorite foreign language film has to be "Mediterraneo." Favorite American comedy has to be "The Big Lebowski." Documentaries, there are a slew of documentaries that I was very, very proud to show. Between the two theatres, the most successful of which was "Fahrenheit 9/11."
Can you tell me something about yourself that most of your customers wouldn't know?
(Continued on Next Page)
Prev Next
Vote on this Story by clicking on the Icon