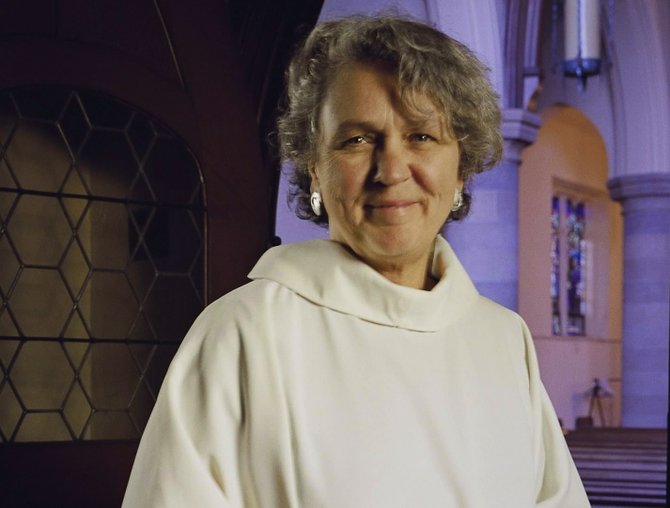 DeWitt — The Rev. Jacqueline Schmitt feels fortunate to have been given the chance to return to the Syracuse area, where she grew up and was ordained, to serve as rector at St. David's Church in DeWitt.
Schmitt left Central New York in 1994 to be the Episcopal Chaplain at Northwestern University in Evanston, Ill. Following almost 10 years at Northwestern, Schmitt was associate for children and family ministries at Trinity Church in Boston, and Episcopal Chaplain at Harvard University. She was vicar at St. Paul's Church in Brockton, Mass., from 2005 to 2011.
"I would have stayed in CNY, but full-time jobs in the Episcopal Church were, [and still] are, scarce," Schmitt said. "I have a family to support, and it was serendipity — or grace — that matched St. David's looking for a rector with me looking for a new call."
Jackie and her husband, Tim, a retired Episcopal Priest, are the parents of Seth, Laura, Stewart and Simon. Simon, their youngest, moved to Syracuse with his parents and will be enrolled at Jamesville-Dewitt Middle School in the fall.
Schmitt began as rector at St. David's on Aug. 1, which marked her return to the church; she was associate rector at St. David's from 1980 to 1982. She also served at St. Peter's Church in Auburn, St. Thomas Church in Hamilton and Emmanuel Church in East Syracuse, and was Canon Preceptor at St. Paul's Cathedral in Syracuse.
Schmitt said the Syracuse area is a very different place than the one she left.
"It seems much more hopeful and moving toward the future," she said. "The leadership of the community at large seems very different as well. I see this reflected in the people who come to St. David's — rather than the engineers and industrial managers of a generation ago, the younger leadership seems to come from the information, service and educational sectors."
(Continued on Next Page)
Prev Next
Vote on this Story by clicking on the Icon