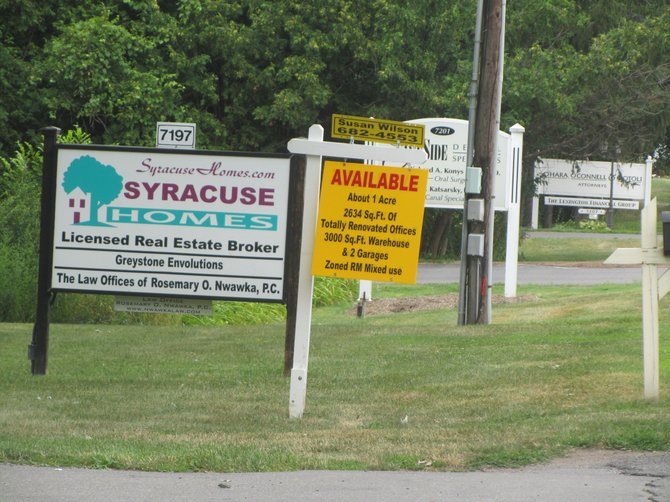 Manlius — The Manlius Town Board will revisit its proposed amendments to local zoning law following a 40-minute long public hearing in which about 10 residents spoke. The amendments would clarify allowable uses in its residential multiple-use district, which includes properties along East Genesee Street between the Fayetteville Towne Center and the town line approaching Lyndon Corners.
Edward Wilson, of Manlius, said it was his denied application to host a tailoring business in his 7197 E. Genesee St. property that led to the town board's review of the local law. Wilson took issue with the town board's proposal to limit property owners to hosting two businesses under one roof.
"That not more than two permitted uses can be allowed to occupy one structure and that the minimum area of space available to each use shall be 1,000 square feet is an absolute killer for building owners wishing to rent space," Wilson said. "As we have pointed out to the board on several occasions there are many allowed businesses that either do not need or cannot afford 1,000 square feet."
The current square footage requirement is a maximum of 500 square feet per business.
"What pressures were brought to bear to create this new hurdle for building owners?" Wilson said.
Ken Wagner, of Glen Eagle Drive, said he "didn't have a dog in this fight," before questioning the square footage requirement.
"If it's the aesthetics, the look as you drive down the road [that you're concerned with], why 1,000 square feet?" he said.
In a letter to Supervisor Ed Theobald date June 14, Wilson wrote that from 2004 to 2008, he and his wife operated the Syracuse Homes real estate company at 7197 E. Genesee St. He said the depressed state of the real estate market has led to the "almost complete demise of our business." Wilson described his situation as a business owner at tonight's meeting, saying he and his wife, Susan, are essentially retired from the real estate business and would like to rent a 500 square-feet space for an apartment.
(Continued on Next Page)
Prev Next
Vote on this Story by clicking on the Icon