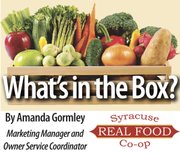 SYRACUSE — Community Supported Agriculture (CSA) is a socio-economic model that allows people to buy food direct from farmers. Customers pay for a yearly 'share' of the farm's crops, and collect a weekly harvest prepared by the farmer. Amanda Gormley, marketing and member/owner service coordinator at the Syracuse Real Food Cooperative, brings you this guide to CSA's offerings.
This week: melon.
On a hot, summer day there is nothing more satisfying than biting into a sun-ripened, thirst-quenching melon.
Despite our short CNY growing season, local farmers are still able to produce some spectacular melon varieties. CNY sees a range of melon varieties from the oblong, smooth-skinned Asian melons to the netty exterior and fleshy orange interior of cantaloupe, to the small, round, nearly black skin of locally produced watermelon.
Melon pairs nicely with mint. Fresh mint, finely chopped, can be sprinkled over fresh cut melon for a refreshing late summer treat.
Try mixing melon cubes with chopped walnuts and feta cheese for a fruit salad you won't forget!
If you have an ice cream maker, fleshy melons like honeydew or cantaloupe make a delicious sorbet. Cube the flesh of a whole melon (about 3 cups) and mix with ½ cup of sugar, and a tablespoon of water in a blender until smooth. Orange zest is a nice addition if you are using cantaloupe, or lime zest for honeydew. Pour the mixture into your ice cream maker and mix until frozen! Or skip the ice cream maker and leave out the water and use your blender to blend the ingredients into a smoothie.
Vote on this Story by clicking on the Icon