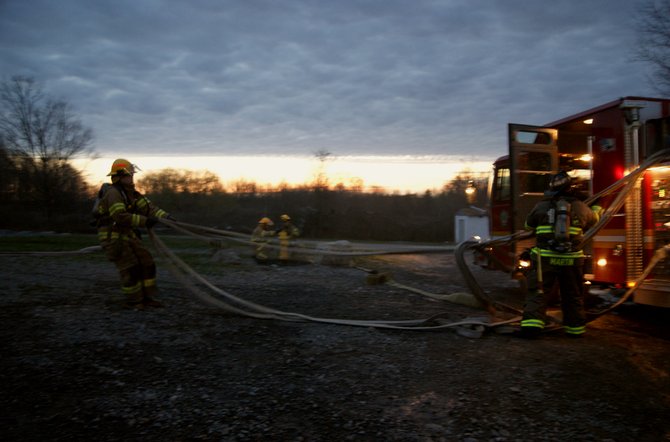 Recruit NY events
Fayetteville Fire Department, April 21, 9 a.m. to 6 p.m.
Jamesville Fire Department, April 21, 22, 10 a.m. to 2 p.m.
Manlius Fire Department, April 21, 22, 10 a.m. to 2 p.m.
Fire departments: If you would like to be listed here, please email editor/reporter Amanda Seef.
It was a two-story house fire in Rome that got Kip Williams involved in the fire department.
He was on his way to work as the first trucks showed up to the roaring fire. He went about his day at work, later learning the fire took the lives of the family who lived in the home.
"That was about a year before I started," he said. "It was so sad."
That fire was the motivating factor to convince Williams to join the Fayetteville Fire Department, where he's been a member since 2009 when he joined to help out the community should something similar happen locally.
That community service aspect has been a concrete reason why many men and women continue to volunteer their time for their local fire departments.
The public will soon get a chance to find out what the local departments are doing, and why they volunteer their time. The state-wide recruitment drive, Recruit NY, will be held April 21 and 22 at the tail end of National Firefighter Week. Nearly all departments will open their doors to anyone interested in learning more about how they operate or how to apply to be a member. The program aims to bring fresh faces to the departments and to showcase what local departments are doing.
The majority of fire departments in Onondaga County are 100 percent volunteer, said George Davenport, a Manlius resident and chairman of the recruitment committee for the Fireman's Association of the State of New York. Davenport first started Recruit NY in Onondaga County, where 52 of the 57 departments in the county participated. FASNY has since taken the drive statewide.
(Continued on Next Page)
Prev Next
Vote on this Story by clicking on the Icon