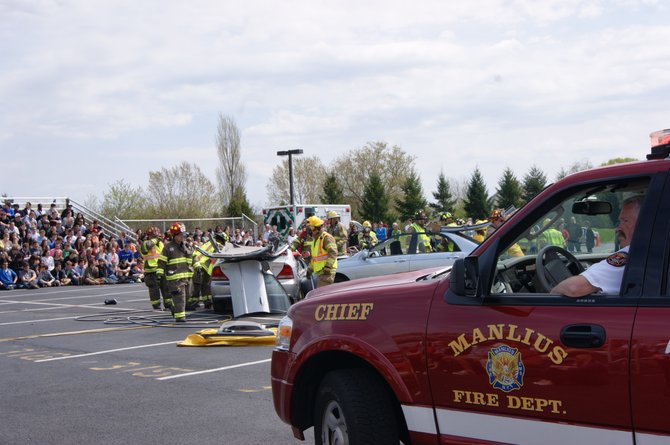 Manlius — The whole scene took about an hour to play out.
Four injured, two dead. One set of grieving parents at the scene to identify the body.
Another set of parents heading to the police station, with a teenage daughter charged with driving while intoxicated.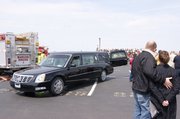 The hope is the message will stay with students of Fayetteville-Manlius High School for much longer than an hour.
The mock DWI presentation was part of the Every 15 Minutes program, a nationwide initiative to remind drivers one person dies from an alcohol-related collision four times an hour. Schools are approaching a critical time with teens, as prom and graduation celebrations start.
Throughout the school day, about 60 students were pulled from class, as they "died" from an alcohol-related crash. Their faces were painted grey, and they weren't allowed to speak to friends or family for the next 24 hours. Juniors and seniors at the high school were then taken to an assembly where the two-car collision had one teen extricated. He hadn't been drinking, but died from his injuries. Another teen, a female, was taken through sobriety tests in front of the audience.
"It's been proven kids learn best when they experience things first-hand," said Manlius Fire Department Lt. Chris Halliday, the organizer of Thursday's program.
Students will also see video of the teens being helped in an emergency room, arraigned in a court room and parents picking out caskets for the deceased teen.
The DWI crash simulation brought in volunteers from Fayetteville and Manlius fire departments and EMS crews, as well as the Mercy Flight helicopter.
Amanda Seef is an editor/reporter with Eagle Newspapers. She can be reached at aseef@eaglenewsonline.com or on Twitter, @AmandaSeef. She also wrote a related column about drunken driving here.
Vote on this Story by clicking on the Icon