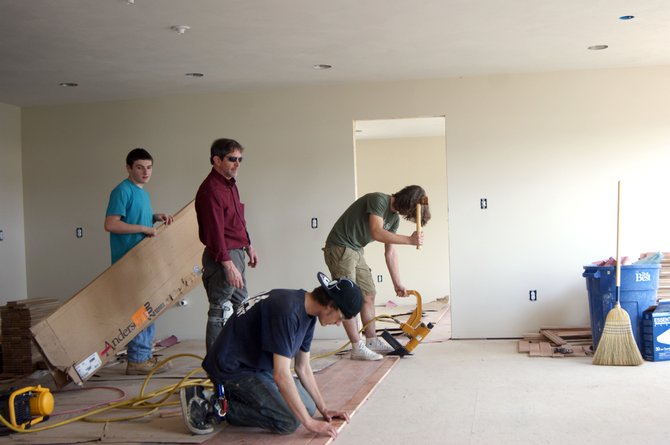 Minoa — For 17 East Syracuse-Minoa students, their class project will be standing in the community for a long time.
After all, their project is a home for one Minoa resident.
Questions about future projects can be sent to:
Dr. Tom Neveldine, D.O. or Philip Kugler at the High School, 750-9451 or online at esmschools.org, keyword "carpentry."
The students are in ES-M's carpentry program, an annual tradition for the better part of three decades. Students in the class build the house from the foundation up for a homeowner. This year Gary Raimando "hired" the students to build the home, so to speak. Raimando's home was chosen from the applicants. He provides the design and all the materials, the students provide the labor as a mode of hands-on learning.
The home, on Clemons Road, two doors down from Raimando's topsoil business, is a 2,000 square foot home. It has a nine-foot basement, two baths and hardwood and tile flooring throughout. Raimando has planted an apple orchard, and the students built a root cellar for the apples. A sun room, two bedrooms, a living room and expansive kitchen will be featured in the home.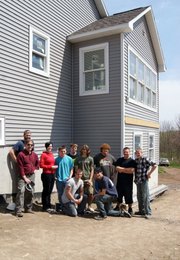 "You can't read a book and learn how to do this," said teacher Phil Kugler.
The program helps a home builder save about $30,000 in labor costs. They act as the home's project manager. The downside, however, is the construction takes a school year, about nine months, to complete. Kids come in 2 and a half hour increments every day, or every other day, depending on their school schedule.
"That gives me the chance to do things myself," Raimando said. "The chance to do my job and do some work on the house myself."
The school district chooses projects that fit best with the student's curriculum. They do all of the work themselves, except for electric, masonry and plumbing.
(Continued on Next Page)
Prev Next
Vote on this Story by clicking on the Icon