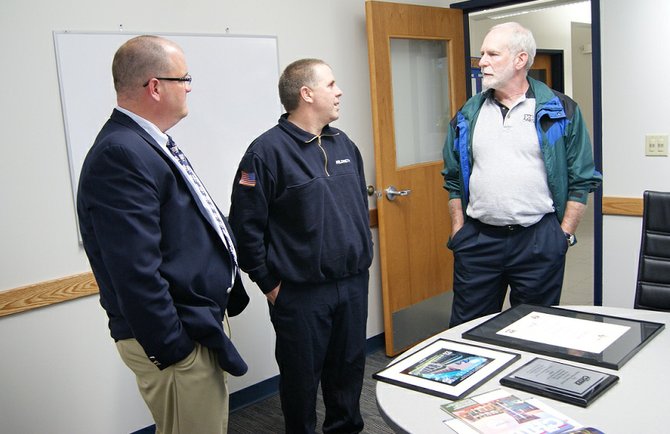 Fayetteville — Three awards have been given to the Fayetteville Fire Department for the design of the firehouse on Genesee Street.
The $6.45 million building was approved by voters in 2009, and formally opened in 2011. Three separate groups have recognized the department for their innovation when designing the building, said Dennis Ross, of Pacheco Ross Architects.
"Lots of people like your station," Ross told Mayor Mark Olson at the regular village board meeting Monday.
The firehouse is the first in the state to become LEED-silver certified. LEED, or Leadership in Energy and Environmental Design, measures efforts made to make a more sustainable environment and promote green energy through design.
The firehouse was recognized for its design, which helped the department to reduce energy usage, make lighting more efficient, improve air quality, reduce water usage and implement recycling initiatives.
Ross says Fayetteville's design showed the village and fire department were "progressive."
The fire department also received a merit award from Fire Industry Equipment Research Organization. The award is given to a handful of fire stations from across the nation each year.
Finally, Ross presented an award from Fire Chief Magazine. The station was recognized as the silver Station Style Design award for renovation. That award also put the fire department into the annual calendar by the magazine. Check out the video about the station here.
All three awards were presented to Fire Chief Paul Hildreth after the board meeting.
Vote on this Story by clicking on the Icon