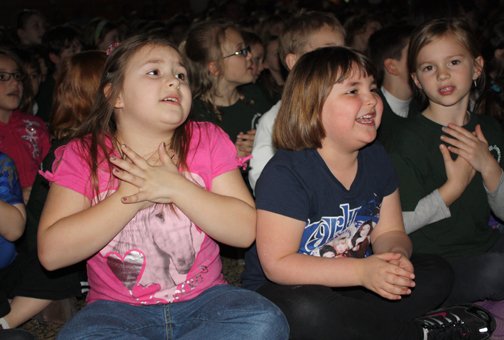 Recycle. Pick up trash. Turn off the lights when you leave a room. Plant and take care of trees.
These were a few of the suggestions Fayetteville Elementary School students gave on how to care for the environment during the 2012 town of Manlius Arbor Day celebration held in the school cafeteria April 27, which was National Arbor Day.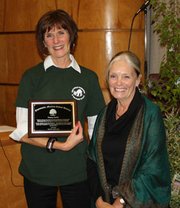 Each year, the town of Manlius asks a local school to host the celebration. Two years ago, the event took place at F-M's Eagle Hill Middle School.
During the event, Manlius Supervisor Ed Theobald read an Arbor Day proclamation, a Department of Environmental Conservation representative presented Theobald with the town's eighth Tree City USA flag from the Arbor Day Foundation and students paid tribute to trees in song and story.
To the students' delight, Theobald announced that the flag will fly at the school through the end of the school year before returning to its traditional spot near town hall.
Fayetteville Elementary Principal Nancy Smith talked about the importance of Arbor Day, noting that, "It reminds us of all the work we have to do to keep our world beautiful."
Superintendent Corliss Kaiser recognized Smith for her efforts to improve the school grounds during her 22 years as Fayetteville Elementary's principal, including adding raised flower beds and Willow tree arches along a walkway.
On behalf of the school district, Kaiser presented Smith with a plaque that included the following inscription: In the words of Lady Bird Johnson "… beautification means our total concern for the physical and human quality we pass on to our children and the future."
Everyone in the room rose to their feet, clapping and cheering for Principal Smith, who is retiring July 1.
The celebration wouldn't have been complete without a few trees. Aspinall's Tree Nursery & Landscaping donated several trees and small plants for the assembly that were arranged on the school stage, and a video was shown that featured students planting on school grounds three trees donated to the school district by the town of Manlius.
On April 17, Tom Mullarney, of Bartlett Tree Experts, planted the trees with Fayetteville Elementary student council members and Nancy Needham, chair of the town of Manlius Tree Commission. The trees are a Swamp White Oak, a Katsura and a London planetree.
Vote on this Story by clicking on the Icon