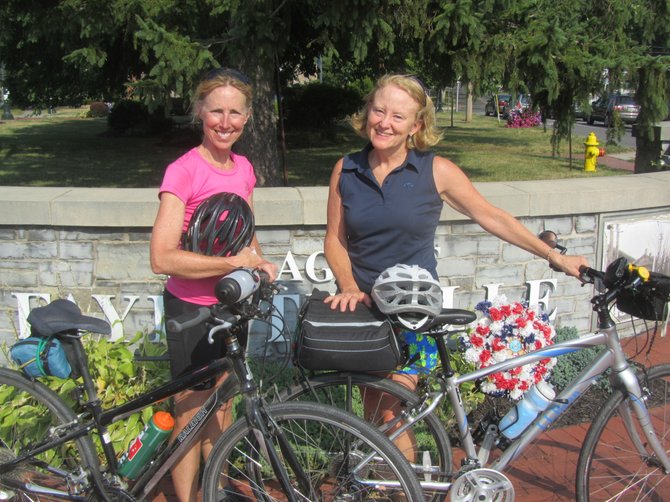 Fayetteville — Robin Hodgskin and Anne Stack, Fayetteville-Manlius High School Class of '72, put their own spin on arriving in style this week.
To celebrate their 40th high school reunion, Hodgskin and Stack decided to bike along the Erie Canal from Buffalo to Albany with their husbands Art Bell and Tim Dunnbier.
The idea came from Hodgskin's husband, Art, who'd seen signs for the Erie Canalway Trail while driving on the thruway during trips from their home in Yarmouth, Maine, to see family in Syracuse.
"All I see is signs for the Erie Canal, so I thought we'd get it up close and personal," Bell said.
And the result?
"It was awesome," he said. "The thing is, if you listen to them talk about when they grew up 40 years ago around here, the Erie Canal, nobody thought anything about it … And now the state has turned it into this unbelievable recreational thing, and it's very cool."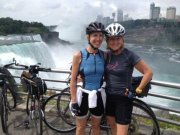 They arrived in Fayetteville at around 4 p.m. Tuesday, en route to Albany, after starting from Niagara Falls on Saturday. They had biked 60 miles that day after starting the morning in Seneca Falls.
With 220 miles under their belts, they had over 150 to go before attending this weekend's reunion events. Hodgskin and Stack spoke to the Eagle Bulletin from the heart of the village, the small pocket park where Genesee Street, Salt Springs Road and South Manlius Street meet.
Hodgskin said coming into Fayetteville was "unbelievable. We loved climbing that hill and seeing that village of Fayetteville. I saw my old doctor's office – Dr. Golden."
Stack, of Concord, Mass., couldn't have felt more at home when she saw the veterinary office, nestled under Route 5 on Mill Street, started by her father as Stack Animal Hospital in the late 1960s.
(Continued on Next Page)
Prev Next
Vote on this Story by clicking on the Icon