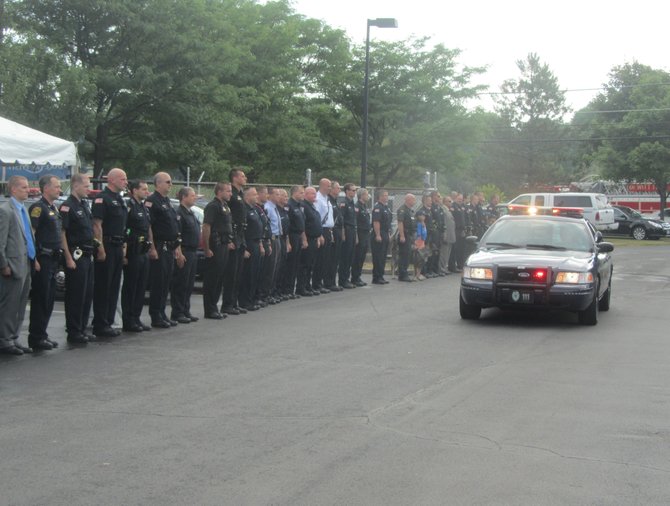 DeWitt — The DeWitt Police Department has welcomed a new police officer into its ranks. Ashton Fox, 8, of Rome, was sworn in at a ceremony held Wednesday afternoon behind the station on Butternut Drive.
Ashton has always wanted to be a police officer, and with a little help from Make-A-Wish Central New York, that dream has become a reality.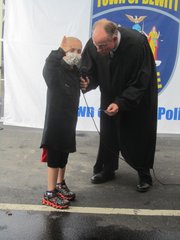 "Ashton is beside himself," Ashton's mom, Amy Accuri, said. "I don't think he knows what to think, especially now that his dream has definitely come true to become a police officer."
Ashton was diagnosed with two types of Leukemia in March and has been undergoing treatment. His wish was to visit his brother in Los Angeles, which Make-A-Wish granted.
Upon returning from California and arriving at Hancock Airport Wednesday, he did not expect to be met with an entourage of police officers. Nor did he expect that a police officer would drive him to the department where the entire police force would be waiting for him. His mother was just as surprised.
"On the way back home from LA today, he told me that when he got home he wanted to start training for the police department, so to come home and to find this has been a blessing," she said.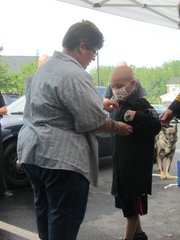 The ceremony included kind remarks from Chief Eugene Conway and the presentation of a sea of gifts from many donors, among them tickets to a New York Yankees game from Bank of America. But for Ashton, nothing came close to the thrill of being sworn in as an officer of the law. Judge Robert Jokl had the honor, and Accuri had the privilege of pinning the badge to her son's custom-fit uniform.
"Being sworn in as a police officer — that's what Ashton really wanted," Accuri said.
Ned Campbell can be reached at editor@eaglebulletin.com.
Vote on this Story by clicking on the Icon