Manlius — L. & J.G. Stickley, Inc. of Manlius has a new president.
The 112-year-old privately held company, which manufactures solid wood and upholstered furniture, announced the appointment of Edward Audi to the position on Friday. Audi, the company's former executive vice president and international division president, will assume the role of president immediately.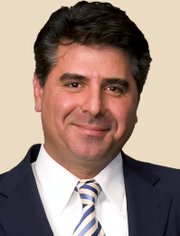 "This is a very exciting chapter in the history of our company," Aminy Audi, chair and chief executive officer of Stickley, said. "Edward's appointment ensures continuity and builds on the strong foundation which Alfred and I have laid."
She said his appreciation for Stickley's history and long-term commitment to its dealers and customers will help him take the company to the next level.
"During his tenure at Stickley, Edward has worked in almost every department and has become very familiar with every aspect of the business," she said. "He is very well prepared for this new leadership role."
Edward Audi is a graduate of Colgate University and attended North Caroline State University's Furniture Manufacturing and Management program. He joined the family-owned company in 1991, holding a variety of positions in manufacturing, purchasing, engineering, design, customer service, accounting and human resources. In 2007, he became responsible for the Manlius factory and president of Stickley International, a factory in Vietnam.
He said it's been a privilege to work with the company's dedicated and capable team over the past 22 years.
"It's also been my good fortune to have been mentored in the business by my parents," he added, "who dedicated their working lives to reviving Stickley and creating opportunities for our people to advance and grow along with us."
Audi currently serves on the American Home Furnishings Alliance Board and the New York State Council of Parks Recreation and Historical Preservation. He and his wife, Laila, live in Fayetteville.
Vote on this Story by clicking on the Icon