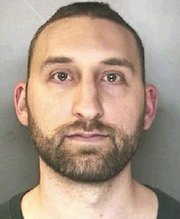 DeWitt — A massage therapist who lives and works in DeWitt has been charged with three counts of forcible touching and one count of sexual abuse in the third degree.
Eli Guterman, 30, of 109 DeWittshire Road, DeWitt, was charged today after multiple accusers came forward, Onondaga County Sheriff's deputies said. Guterman, a chiropractor and licensed massage therapist, owns Back 'n Touch Wellness Center at 6800 East Genesee St., DeWitt.
The investigation began last summer when one of the alleged victims told DeWitt police that Guterman touched her breast and genitalia repeatedly during a job interview, deputies said. The investigation was then turned over to the Sheriff's abused persons unit. Sheriff's detectives have since identified more alleged victims who have made similar accusations.
Guterman was arraigned in DeWitt Town Court this evening on charges of forcible touching and sexual abuse, which are both misdemeanors. He was released on his own recognizance and is due back in DeWitt court Jan. 22.
Detectives are looking to speak with other possible victims. Anyone with information is asked to call the abused persons unit at 435-3092.
Vote on this Story by clicking on the Icon