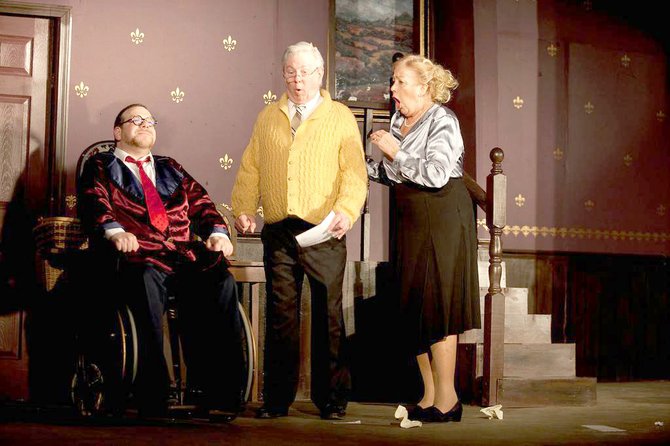 DeWitt — Two performers who live in Liverpool — Colleen Deitrich and Tom Minion — are appearing in an uproarious revival of "The Man Who Came to Dinner," now playing at the new CNY Playhouse at Shoppingtown Mall, in DeWitt.
There's never a lack of action as two dozen characters scurry and scuttle across the ample stage keeping the three-hour show moving along merrily as yuletide approaches both onstage and off.
Starring the ever-adept Jim Uva as irascible radio personality Sheridan Whiteside, the production also showcases actresses Joleene DesRosiers Moody and Alexendra Gilman as rivals for the romantic attentions of a small-town reporter.
First staged on Broadway in 1939, the classic comedy revolves around Whiteside, a cosmopolitan celebrity relegated to a wheelchair in rural Mesalia, Ohio, after an accident on the ice shortly before Christmas. Whiteside is modeled after Alexander Woollcott, The New Yorker's caustic theater critic, a member of the Algonquin Round Table who often tipped a few with playwrights Moss Hart and George Kaufman.
An actor who recently tackled the title role in "Jekyll and Hyde," Uva creates a wonderful Whiteside, a monstrous house guest who eventually reveals a heart of gold.
Although he sometimes supplants venom with volume and mispronounces "get" as "git," Uva manages to anchor the action as Whiteside sabotages his secretary's sudden crush. Between querulous quips he also disrupts his hosts' home fire by urging their twenty-something kids to fly the coop and follow their dreams.
Having previously helmed the comedies "The Odd Couple" and "Arsenic and Old Lace," director Dan Rowlands was well-prepared to tackle this big-cast satire. With 22 players filling 26 roles, Rowlands has his hands full here, but his cast rises to the occasion.
Stand-outs include Alan Stillman as swishy conniver Beverly Carlton, Kathy Egloff as pixilated Harriet Stanley, Justin Polly as an eccentric entomologist, and Miquon Jackson as a hyper-kinetic clown. Liverpool's own Tom Minion — a former member of the now-defunct Clay Towne Players — appears as the flustered homeowner who house is overtaken by the miserable Mr. Whiteside.
(Continued on Next Page)
Prev Next
Vote on this Story by clicking on the Icon