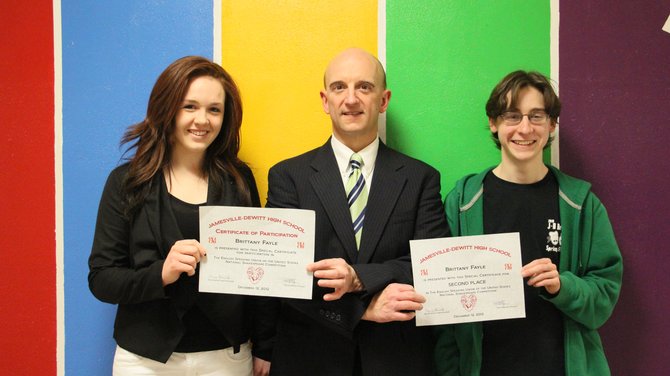 DeWitt — In the recently held first round of the English Speaking Union's National Shakespeare Competition at Jamesville-DeWitt High School, seniors Alex Leblond and Brittany Fayle took first and second place, respectively.
Having edged out 16 other contestants in the school, Leblond will advance to the next round in March to test his stage skills against the winners from other area schools, with Fayle serving as an alternate. Leblond's haunting rendition of a monologue from Shakespeare's infamous version of the historical King Richard III and Fayle's emotive performance as Portia, from the Bard's classic Julius Caesar, earned them the top spots.

The winner of the next round – where competitors must perform a Shakespearean sonnet in addition to their monologue—travels on an all-expenses paid trip to New York City to compete in nationals at Lincoln Center, with a chance at the top prize – a trip to England to study acting. Senior Patrick LaRussa took third place, juniors Minela Becirovic and Wryann Ross and senior Mari Eimas-Dietrich won Honorable Mention, and sophomore Celeste Torres won the Rising Star Award.
Vote on this Story by clicking on the Icon