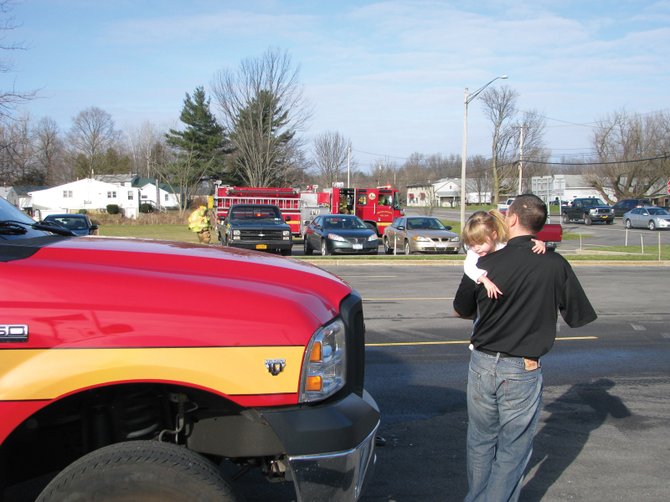 Clay — On Saturday, Dec. 15, Moyers Corners Fire Department Station No. 1 opened its doors to a different kind of crowd.
In addition to the usual crew of firefighters and first responders, several burn survivors and their families also came to the station in order to enjoy the holiday celebration of the Burn Foundation of CNY, to which the department volunteered to play host.
Jim Ennis, a former Syracuse firefighter, is chairman of the Burn Foundation.
"Today is our sixth annual holiday party," Ennis said. "This is a time when the kids come in and get to see each other. You'd be surprised by how close-knit this group of kids are because of their commonality, that being their burns. Our people look forward to it. It's an opportunity to see the smiles on their faces. That's our Christmas — their smiles."
The Burn Foundation of CNY officially got its start two years ago, when it broke away from an umbrella organization in Rochester. The move was made at the request of the medical staff at the Clark Burn Center at Upstate Medical University, Ennis said, who found that the larger organization wasn't meeting the needs of the local community. With their help, several area fire service personnel created a 501(c)3 nonprofit, and the Burn Foundation of CNY was born.
That said, the all-volunteer Burn Foundation had a presence in Central New York for quite some time before it officially came into existence. Under the auspices of the Rochester organization, the group carried out a variety of activities that it continues to this day.
Regardless of the name or of who heads the organization, its mission remains the same: to support those who have suffered burns and to help them recover, both physically and emotionally.
"The things that we do are to support burn survivors, regardless of age, from infants up through adults," Ennis said. "There [are] a lot of emotional scars that we don't see [that] we know these children endure. [We try to do] anything we can do to help eliminate or relieve those scars."
(Continued on Next Page)
Prev Next
Vote on this Story by clicking on the Icon