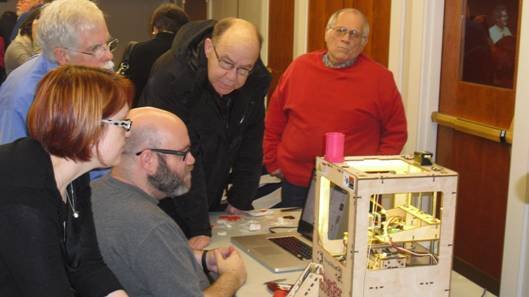 Fayetteville — The Fayetteville Free Library hosted an open house Saturday for the community to learn about the development of the FFL Fab Lab, the world's first Makerspace in a public library. About 200 community members came to the library between 11 a.m. and 2 p.m. to learn about 3D printing technology and speak with experts on the impact of using 3D printing technology as an educational tool in communities.
Experts that were on site Saturday, working with Fayetteville Free Library staff, were Joe Deken, founder of New Blankets and director of research program development at the University of California San Diego in the California Institute for Telecommunications and Information Technology; Theron Trowbridge, director of encoding at Deluxe in Burbank California and director of MakerBot care and feeding at CRASHspace, a hackerspace in Los Angeles; Jon Santiago, co-founder of STEM2GETHER and HTHINK. Jon works with schools and community based organizations to create afterschool programs that engage children in STEM. He also works with MakerBot Industries to develop 3D printing curriculum and professional development for teachers.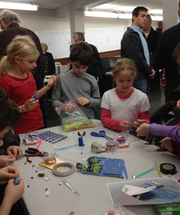 "I am grateful to the community for coming out with such commitment and excitement at having this innovative technology at their public library," said Sue Considine, the library's executive director. "We will begin to offer programs in March, so please stay tuned."
The library has a unique culture of innovation and is a leader in the world of library technology and services. Working with New Blankets allows the library to provide more access to instruction, technology, ideas and people.
Children that attended the open house created Bristolbots, tiny robots made from a toothbrush head, a small vibrating motor and a battery. Other activities included an introduction to 3D design software and a chance to see the MakerBot Thing-o-matic 3D printer in action.
Visit the library's website to learn more about the FFL Fab Lab. Fayetteville Free Library is located at 300 Orchard St., Fayetteville.
Vote on this Story by clicking on the Icon