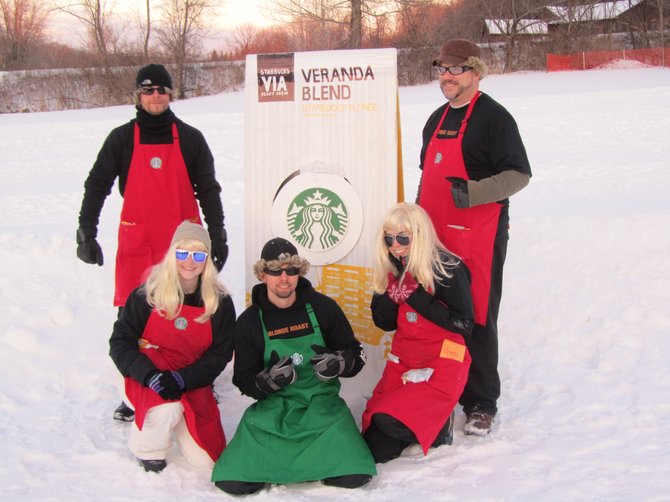 Fayetteville — Not even the crackling cold could stop the fundraising festivities Saturday evening at Four Seasons Golf and Ski Center in Fayetteville.
The second annual Sled for RED, a family centric and innovative event in which money is raised for AIDS research, was successful in many ways. Teams from around the area could consist of five members. They had to build sleds made out of nothing but tape, cardboard and paint and raise at least $250 to compete in the downhill Cardboard Sledding Derby that became more fun than competition. It kicked off around 5:30 p.m. on Saturday.
Beyond raising money for AIDS Community Resources, a non-profit that educates youth about the dangers of HIV and sexually transmitted diseases and ways to avoid said diseases, the evening was rife with winter spirit.
In total, 20 teams competed and raised a grand total of $14,025. Every cent stays local, according to Carrie Large, director of development for Aids Community Resources. Leading the charge was Living Large, a team consisting of Carrie Large and Cathy Kozachuk, which stole the show by raising $1,450.
Large, director of development for Aids Community Resources, was an enthusiastic part of the festivities. She said the goal was to come up with $10,000, yet even before the final tally was calculated, she was confident that mark would be reached.
"The support has been unbelievable, and I feel the community really wanted this," she said. "It knows we need the support if we're going to keep this going, if we're going to keep educating kids."
At around 4:45 p.m., teams started lining up their sleds along the hill. Some chose quiet unveiling, while others, literally, came out smoking. One team was called up to race, and made a grand entrance by coming out of the back of a truck equipped with smoke machines. It was a sled built to look just like a pickup truck, giving the sizable crowd something to cheer for.
(Continued on Next Page)
Prev Next
Vote on this Story by clicking on the Icon