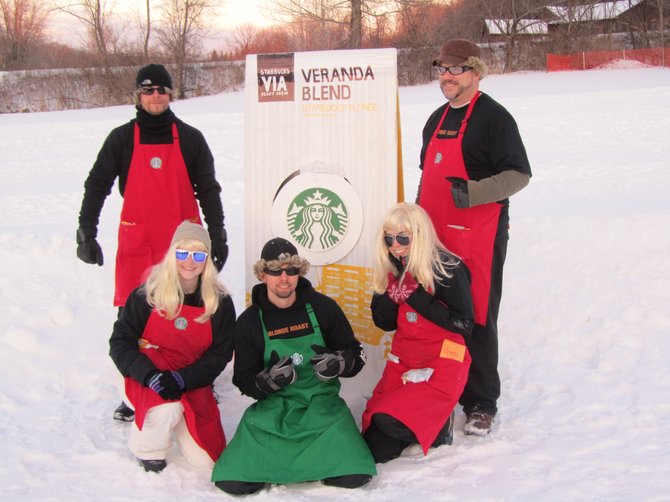 continued — There were sleds that replicated motorcycles, turtles, pizza boxes and even mega-chain Target.
The Vestal Blondes, a team sponsored by Starbucks, took home the gold by making it safely to the bottom of the hill in a time of 8.9 seconds.
"It was for a great way to raise money and awareness," Blondes member Ryan Titchen said. "I mean, how often do you get to have this kind of fun for such a good cause?"
Team Squirtle, made up of Alex Bucaro, Damien Dine and Brennen Dooley, said the experience of meeting every Thursday for three weeks to build their version of the Pokemon character was a total blast, and one that won't be forgotten. The team is part of the Q-Center, which is a lesbian, gay, bisexual and transgender center. The center received a portion of the proceeds to fund educational programs.
"We all came together for this cause," Dine said. "You'd really be surprised how many kids don't know the specifics about AIDS and sexually transmitted diseases. An event like this helps [the Q-Center] to educate those kids."
Large said she hopes Sled for RED becomes a yearly tradition in Fayetteville. Judging by the results from this year, she's quite confident.
"We hit our goal before the final tally," she said. "I think the enthusiasm showed by the community will help this event continue to thrive."
Neil Benjamin Jr. can be reached at nbenjamin@eaglenewsonline.com.
Vote on this Story by clicking on the Icon