continued — The village has taken steps to plan for the roadwork, including installing two new stops signs at Brookside and Kessler lanes in response to a petition of Brookside Lane residents. Olson said the village is also prepared to put down temporary speed bumps where necessary.
"We have to be flexible because we don't know where the impact is going to be," the mayor said. "We don't know where people are going to find the easiest way to cut through."
Clinton Street stop sign approved
The board approved a motion by a vote of 3-2 to install a new stop sign for drivers heading west on Clinton Street, near Beech Street. Olson and trustees Dan Kinsella and Chris Randall voted yes while trustees Mike Small and Dennis Duggleby voted no.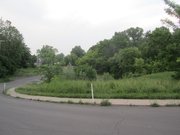 The new stop sign was proposed in anticipation of the development of the vacant land formerly occupied by the McIntyre Paper Company.
"Either way, if the project does go through or if it doesn't go through, it's a good idea," Olson said.
"I think [the stop sign] is very close to the one at Warren Street," Small said. "I don't know if we really need it, unless something really good comes to that area … the development's not in there yet."
The development project, which would bring bungalow-style homes to the lot, is expected to go to the planning board for approval at its next meeting at 7:30 p.m. Aug. 13.

"Supposedly they're closing on the property on Wednesday," Olson said. "It definitely fits into the character of what we want in there."
Vote on this Story by clicking on the Icon