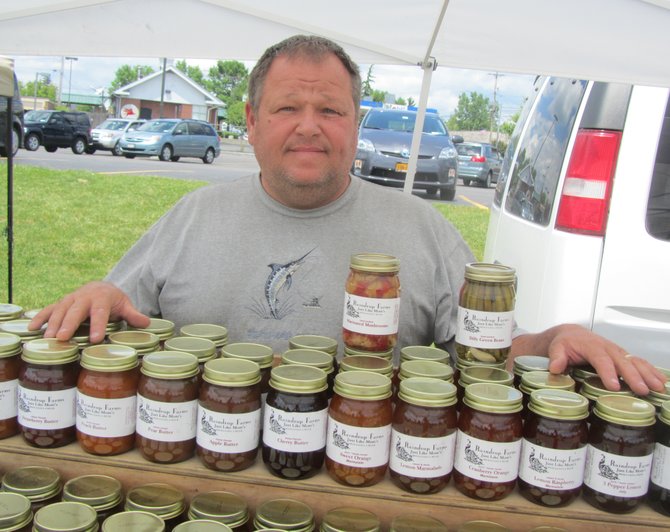 Manlius — The village of Manlius Farmer's Market opened Sunday, June 3, in the lot behind Sno Top. Throughout the summer, the Eagle Bulletin will interview farmers and other vendors at the local market to find out what's in season and what's in store for the coming months.
First up: Jim Lowry, of Raindrop Farms in Georgetown.
What are you selling today?
Most of the time we grow grape tomatoes, zucchini, yellow squash, green beans, cucumbers, of course when it's in season. We have some asparagus, some berries, blueberries, red raspberries.
So what's in season right now?
Asparagus is what we have now. We put a lot of stuff in from transplants so we should have zucchini and stuff of our own in the next few weeks.
Of all the goods you sell, what is your favorite?
I'm always partial to our honey. We have 35 hives. Wildflower, clover, goldenrod honey is our own local stuff, and then of course we bring in stuff from Maine … so honey's always nice.
How's business going?
This time of the year it's a little slow. We don't have a full selection of fruits or vegetables yet. That's why we went to jarring a lot of stuff up — to fill the gaps in the seasons.
How many years have you been bringing your goods to the Manlius Farmer's Market?
Since it started. My father [also Jim] did it before; he just passed away."
And why do you keep coming back?
Because it's a community.
The Manlius Farmer's Market runs from 10 a.m. to 4 p.m. Sundays and from 10 a.m. to 7 p.m. Wednesdays.
Vote on this Story by clicking on the Icon