DeWitt — Menorah Park in DeWitt, a comprehensive continuing care provider for more than 100 years, is currently honoring its past, present and future.
Founded in 1912 as The Jewish Home for the Aged in an old but spacious house with 17 rooms, the Home moved in 1925 to its current site on East Genesee Street and was officially renamed Menorah Park in 2002. Menorah Park has been committed to enhancing the quality of life for older adults throughout its history.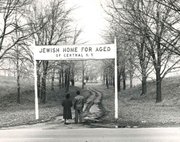 Today, Menorah Park sits atop a gentle hill on 34 acres of beautiful park-like grounds on East Genesee Street approaching DeWitt from Syracuse. It is a complete campus for senior living and wellness and provides a continuum of services designed to meet the needs of seniors in the community. Menorah Park is focused on individual care and total well-being in an environment that respects and values the worth and dignity of every person.

The story of the Home's beginning is poignant. In 1912, the need to provide for the Jewish elderly had been discussed within the community but was made a priority when a sick, old man seeking refuge was found in the basement of a Jewish synagogue. Through the initiative and generosity of the Founding Fathers and contributions from Syracuse and surrounding communities, a home was purchased in the heart of Syracuse on Irving Avenue.
The philanthropic commitments of four generations has enabled the Jewish Home of Central New York to evolve from a small downtown Syracuse rooming house to a facility offering a wide variety of placement options and a broad range of the highest quality health, residential and community services.
Menorah Park's approach goes well beyond traditional care to encompass everything from independent retirement living at The Oaks; supportive living at The Inn; affordable independent housing; a state-of-the-art skilled nursing facility and short term rehabilitation center; adult day care; a community residence for developmentally disabled young women; Syracuse Jewish Family Service providing therapeutic services, counseling, education, individual and family support; a center for preserving the history of the Jewish culture and tradition in Central New York; IMPARA, a research center to promote the study of aging; and many innovative plans for the future.
Ultimately, Menorah Park hopes to be positioned as an active member of the community in the lives of people of all ages. Menorah Park is non-sectarian and welcomes individuals of all faiths, ethnicities, and cultures.

A 100th Anniversary Gala is planned for Oct. 27, 2012, at Temple Adath Yeshurun in Syracuse to celebrate Menorah Park's Century of Caring. For more information about the Gala, contact Katie Hughes, director of marketing, at 446-9111 ext. 180.
Vote on this Story by clicking on the Icon