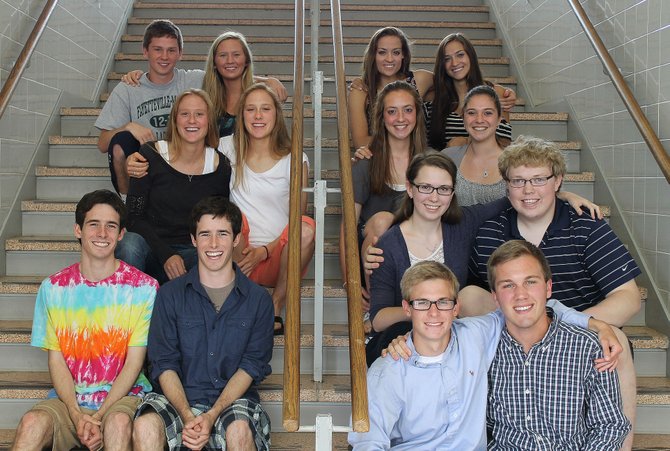 Manlius — If you attended the Fayetteville-Manlius Class of 2012 graduation ceremony, there may have been times when you felt you were seeing double.
Seven sets of twins, including two who are identical, took part in the F-M graduation ceremony on Friday, June 15, at the Onondaga County War Memorial in Syracuse.
Each set of twins is college bound; however, none of the twins are attending the same institution as their sibling. They acknowledge it will be an adjustment, as they for the first time will find themselves on their own without their other half.
"We're so used to seeing each other right when we wake up and when we go to sleep," said Hannah Bucklin, who has a fraternal twin, Mary.
Many of the twins say their siblings are their calendars, alarm clocks, chauffeurs, social secretaries and best friends.
"It's going to be different not always having someone to rely on," said Ariana Beers, who has an identical twin, Charlotte.
There are definite perks to being a twin, like sharing clothes, said fraternal twins Erin and Shannon DaRin. But there are drawbacks, too.
"Sharing a car is the worst," Erin said.
Identical twins Harry and Teddy Rube said they made a pact not to talk to each other for a month about the colleges they were considering attending. When the time came to announce their final decision, they counted to three and spoke at the same time.
Bowdoin College for Harry. Bates College for Teddy. Both start with the letter B and both are in Maine.
Fraternal twin brothers Casey and Sawyer Konys chose schools geographically close together to make visiting easier on their parents. Casey will be attending Colgate University in Hamilton, and Sawyer plans to attend Hamilton College in Clinton.
However, they said their mother is already concerned about their college graduations, which are slated to take place at the same time on the same day – about nine minutes away from each other.
(Continued on Next Page)
Prev Next
Vote on this Story by clicking on the Icon