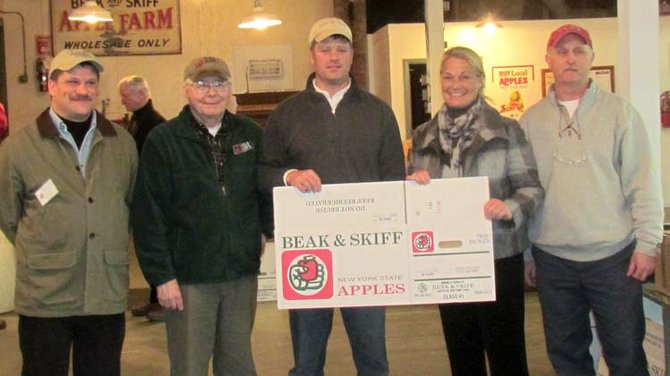 Anyela's winery and Rep. Buerkle
Jim Noceck, owner of Anyela's, was pleased and "honored" that his winery was a stop on Buerkle's recent agricultural tour.
"It was nice to see she has an interest to look at the different dimensions of agricultural businesses," Noceck said.
Another honor for the winery was the fact that Buerkle bought multiple cases of Anyela's wine this past Christmas to distribute as gifts to her Congressional colleagues, Noceck said.
"Their wine is just delicious," Buerkle told the Skaneateles Press. "I gave bottles to many of my fellow members, especially those from California, and told them they have some serious competition in winemaking from New York state."
Skaneateles — Congresswoman Ann Marie Buerkle recently came through Skaneateles and visited Anyela's winery as part of a day-long tour of local agricultural businesses in her district.
In addition to the winery, Buerkle also visited an apple farm, a vegetable farm and a diary, met with numerous local farmers and conservation officials and held the inaugural meeting of her Agriculture Advisory Task Force in Syracuse.
"Whenever you talk to the whole agriculture community, you are immediately impressed with the dedicated, hardworking people they are," Buerkle told the Skaneateles Press. "What impressed me, too, were the obstacles put in their way by state and federal governments — the government should get out of their way."
Buerkle's tour was sponsored by both the Onondaga County and the Cayuga County Soil and Water Conservation Districts, which have been working closely with the congresswoman's office on agricultural issues since she took office last year.
The tour bus — filled with about 40 people, including Buerkle, her staff, local conservation officials, local farmers and members of the media — visited Beak & Skiff apple farm in LaFayette, Anyela's Winery in Skaneateles, Hourigan Dairy Farm in Elbridge and Wyllie Fox vegetable farm in Cato. At each stop, the farm owner would give a short presentation of their business and the challenges they face, followed by a short tour. Neighboring farmers also were invited to each stop, and Buerkle listened and took questions from them as well.
(Continued on Next Page)
Prev Next
Vote on this Story by clicking on the Icon