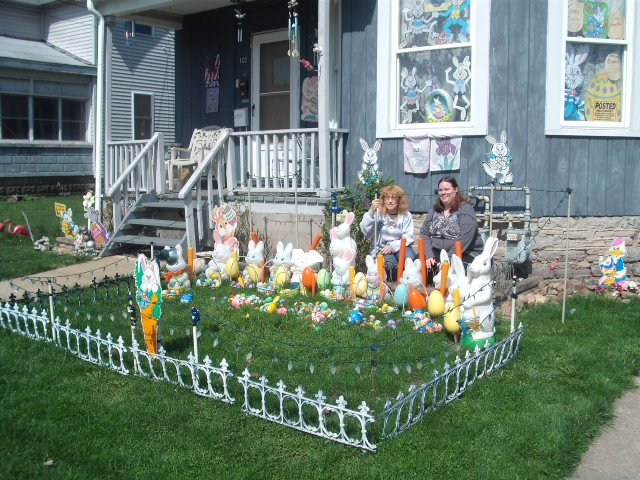 East Syracuse — Anyone who passes by can't miss that 102 W. Ellis St. is always brimming with holiday spirit.
Deborah Green, who lives in the bottom apartment of the two-story house in East Syracuse, has made it her business to put up seasonal decorations on her lawn, porch and windows for the last 12 years.
"I do it for the little ones," Green said.
The current setup is Easter themed: plastic eggs, carrots and rabbits galore adorn the lawn, and pictures of festive rabbits hang in the windows. Green also puts out decorations for Valentines Day, the Fourth of July, Halloween and Christmas.
"You should see the basement," she said. "It's a mess from all the stuff I've collected over the years."
Though she claims to have had things stolen from her lawn numerous times, Green says the community enjoys her decorations. She often gets nice comments from neighbors and East Syracuse police officers, whose station is just around the corner.
When the weather is nice, teachers from the nearby Saint Matthew Catholic School will sometimes bring young children by to look at the decorations, Green said.
Green also plans to continue her tradition of bringing miniature Easter baskets filled with candy around to the East Syracuse village offices and police department.
"We appreciate the village and all the services they do for us, so that is a little something I do for them every year," she said.
Joe Genco is an editorial intern with the Eagle Bulletin. He can be reached through the editor at editor@eaglebulletin.com.
Vote on this Story by clicking on the Icon