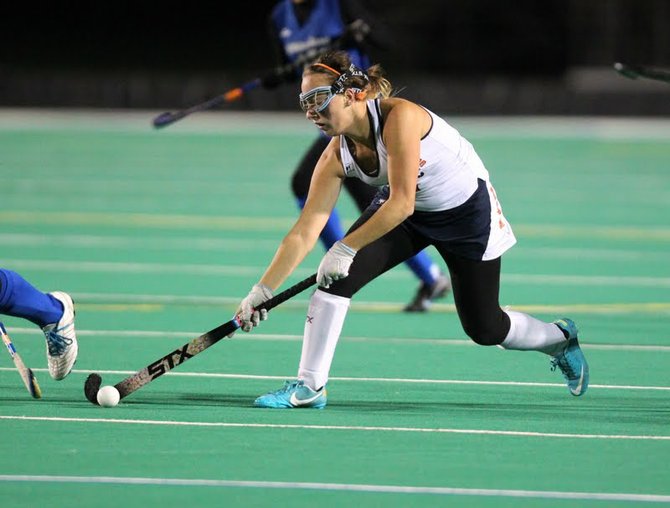 Cicero — Five years ago East Syracuse Minoa didn't even have a field hockey program. It didn't receive varsity recognition until three years ago.
But on Saturday, the Spartans won the Section III Class B championship, defeating Whitesboro 2-1 at Cicero-North Syracuse's Bragman Stadium to get the team's first championship since its earlier incarnation pulled it off way back in 1977.
"Last year our goal was to make sectionals (and) we did that," ESM head coach Kate Sergi said. "This year our goal from the very beginning was to win sectionals, and we did."
The postgame celebration was bedlam. Players were in hysterics, unable to speak coherently through the tears. Fans were packed three tows deep behind the fence, when the mass of white jerseys ran off the field to meet them.
Judi Neff, who scored the game-winning goal 4:07 into sudden-death overtime, kept her smile on for every second of the celebration. She didn't know how they did it, and couldn't describe the feeling exactly, but the euphoric joy that flowed through her and the rest of the Spartans was perfectly clear.
"We were just doing whatever we could to get it in," Neff said. "As long as we got it in the goal, we did it."
Neff had a scoring opportunity earlier in overtime. After Tiffany Evans dribbled past the Warriors defense, she led Neff on a pass to the left of the cage, just five yards out. But Neff wasn't quite able to handle it, and the ball rolled out of bounds.
Moments later, Danielle Ventrone was issued a yellow card, leaving the Spartans to play six on seven. So playing at a disadvantage, Neff redeemed herself with the biggest goal in program history.
"It was stressful," Neff said. "I had that chance and I knew that I had to get it back for my team because I owed it to them. I couldn't end it like that."
(Continued on Next Page)
Prev Next
Vote on this Story by clicking on the Icon