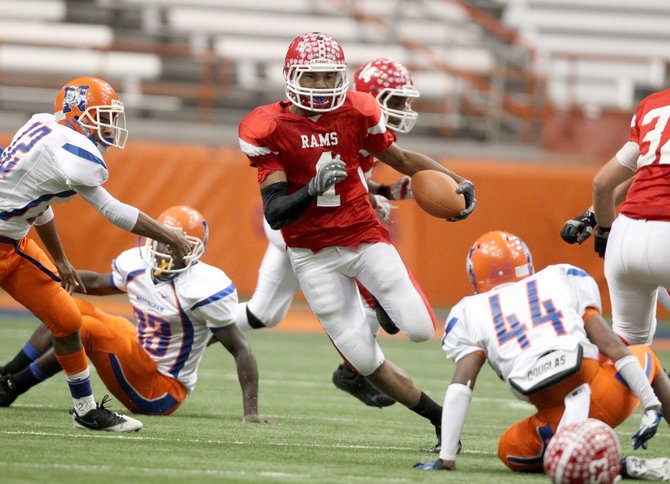 SYRACUSE — Having waited 15 years to return to the top of the Section III ranks, the Jamesville-DeWitt football team got denied a championship by a neighbor that had gone more than twice as long without that ultimate prize.
Nottingham scored on its first and final possessions to nip the Red Rams 14-7, in the Class A football championship game Friday night at the Carrier Dome.
In doing so, the Bulldogs (8-2) won its first Sectional title since 1980 and avenged a 25-7 regular season loss to J-D on Sept. 28. The Red Rams finished 9-1.
The title game turned into a defensive struggle after Nottingham started on fire. After holding the J-D to a three-and-out, the Bulldogs needed only two plays to cover 70 yards.
Nottingham quarterback Marty Clanton opened the drive by hitting Jefari Davis for 28 yards. He then launched a 42-yard bomb to a streaking Tyquon Rolon, who caught in in stride and rambled into the end zone just 2:33 into the game. The Bulldogs missed the extra point, but led 6-0.
"(Nottingham) knew we were going to stop the run so they hit a seam over the middle and then they got behind our defensive back," J-D coach Eric Ormond said. "That was a breakdown."
Ormond and his Red Rams were fortunate they weren't further behind after the opening 12 minutes. Nottingham outgained the J-D, 139-11, in the first quarter, but only had those six points to show for it.
Bulldogs coach Nick Patterson said that he wasn't fooled into thinking it was going to be an easy night.
"We knew we were against a team whose defense was very good," he said.
The Red Rams finally found they offensive stride from an unlikely spot - namely, its own three yard line, as it put together a 14-play, 97-yard drive that covered most of the second quarter.
(Continued on Next Page)
Prev Next
Vote on this Story by clicking on the Icon