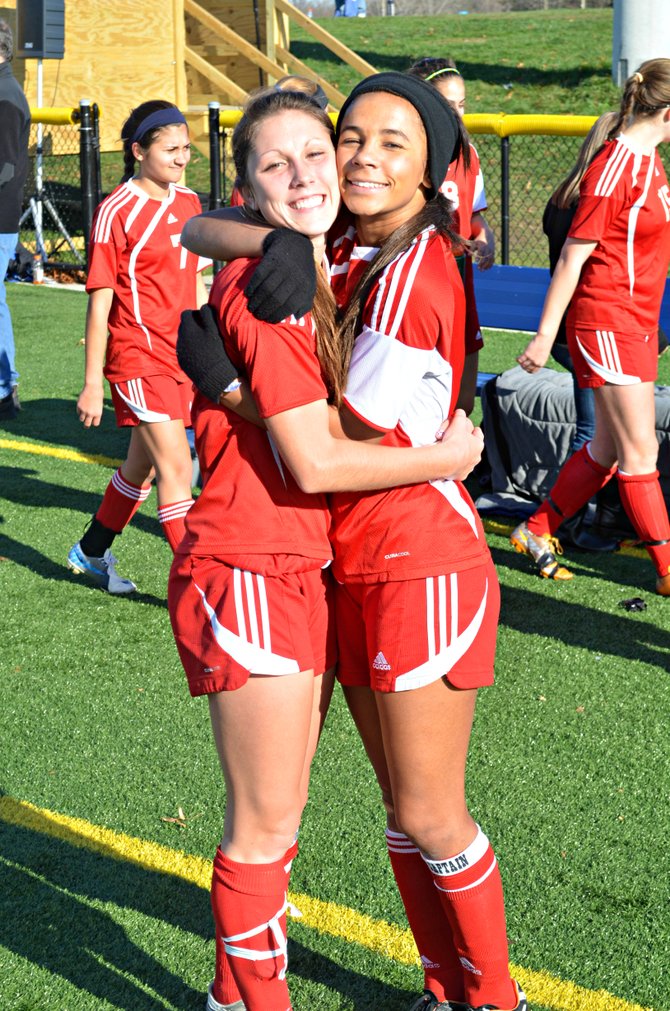 Simply put, the two Jamesville-DeWitt girls soccer seniors responsible for four straight Section III Class A titles did not want to leave until they experienced the state final four.
With the Red Rams trailing Massena in Saturday's Class A regional final at SUNY-Canton, Jessica Holmes and Maddy Devereaux took over and made the crucial scoring plays that led to a 2-1 victory over the Red Raiders.

By prevailing, J-D advances to next Saturday's state semifinal at SUNY-Cortland, where it will face Section V champion Brighton at 5 p.m. The championship game is next Sunday at 4 p.m. on that same Cortland turf.
It had appeared that the Rams cleared its biggest hurdle back on Tuesday when it knocked off Section II power Burnt Hills-Ballston Lake 1-0 in the first round of the regional playoffs, avenging three straight regional defeats to the Spartans.
But as it turned out, Massena was far from an easy mark. Through a scoreless first half, J-D was passive, unable to do much against a stubborn Red Raiders defense.
Then the urgency grew five minutes into the second half, when Massena's Dominique Valancius slipped a shot past J-D goalie Allie Butler. It was the first time the Rams had allowed a goal since the sectional semifinals against Camden.
Instead of panicking, though, the Rams continued to probe - and broke through in the 59th minute when Holmes, from the right side, crushed a hard shot that slipped out of the Massena goalie's hands and found the net, tying it 1-1.
In the 66th minute, J-D attacked again. This time, it was Devereaux finding space just outside the penalty area and, from 20 yards out, ripping in the go-ahead goal.
J-D's defense, so strong throughout the post-season prevented Massena from getting back even, and the Red Rams, for the first time in the program's history, have made it to the final weekend of the season.
Vote on this Story by clicking on the Icon