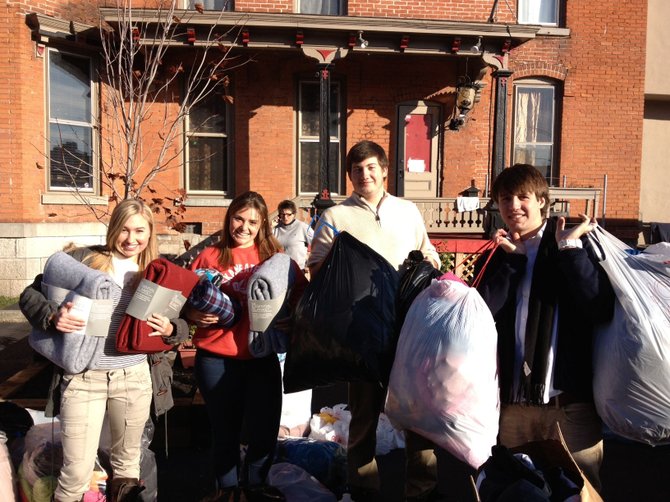 Schools all across the eastern suburbs are doing their parts to help aid the victims of Hurricane Sandy.
The day after Hurricane Sandy hit, one child came into Leslie Almstead's fifth grade class at East Syracuse Elementary with a poster already made, and the class took off. They began making posters and hanging them up in the school.
Two students, Chris Nicol and Mads Nielsen, have organized a campaign to raise money. They spoke with the school population during a character education assembly, and have been making regular morning announcements to update the school on the campaign and to raise more money. Macy's is offering to match, dollar-for-dollar, all donations brought to them before Nov. 30, so the campaign will run through the Nov. 16 and the proceeds will be doubled.
The Manlius Pebble Hill School community collected items, such as blankets, clothing and toiletries, for victims of the hurricane. Donations were delivered to Laci's Tapas Bar, the Syracuse restaurant whose owners are traveling to the effected area with supplies and their kitchen truck.
Even the youngest kids are getting involved. Enders Road Elementary School of the Fayetteville-Manlius School District is hosting a variety of events to collect goods and raise money to help victims.
"So much of what we focus on in our school is our character education program," said Principal Deborah Capri.
In order to keep this alive at Enders Road, the school has its own after school Kids Care Club program, which is part of an international movement to encourage a spirit of volunteering in elementary and middle school children. There are more than 1,800 registered clubs worldwide.
"The sole purpose is for the students to find ways to give back to the community," Capri said. "Right away, they put a flyer out and donation box where they are collecting warm pajamas, socks, and cleaning items. Amazingly, the boxes were full just within a day or so."
(Continued on Next Page)
Prev Next
Vote on this Story by clicking on the Icon