Manlius — What was expected to be a typical Manlius Village Board meeting turned into anything but Tuesday when trustees and audience members alike began screaming and throwing accusations around the room.
The outburst occurred after outgoing Manlius Parks and Recreation Director Kristen Hansen read a statement regarding the "workplace violence" charge she filed against Manlius Mayor Mark-Paul Serafin last month.
"The work environment that the mayor created was intolerable, hostile and intimidating and I chose to look for other employment because I couldn't work for him anymore," Hansen later told the Eagle Bulletin. "I couldn't take his comments about my personal life and my family anymore."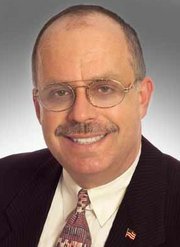 Serafin declined to be interviewed about the events that occurred, but said at the meeting that he was "ignoring the entire matter raised by Kristen Hansen." He said that the way Trustee Natalie Miner handled the complaint was "a violation of village law" and "biased." "It was a kangaroo court on a witch hunt," he said.
Hansen said the mayor never said a bad word about the job she did, "because I did a good job," but his comments about her personal life went too far. The final straw was when he reacted inappropriately to seeing "someone he didn't like" holding her 8-month-old child at a village event, she said.
"He continually made comments about it and I grew tired of it," Hansen said. "I thought, 'this has been going on for too long,' and that somebody had to come forward. So I did."
Hansen is not the only village employee ready for a change. At Tuesday's meeting, Manlius Fire Chief Paul Whorral announced that he plans to run for mayor in the spring. He said he's been working for the village of Manlius since the 1970s and feels that right now, it's ready for something different.
(Continued on Next Page)
Prev Next
Vote on this Story by clicking on the Icon