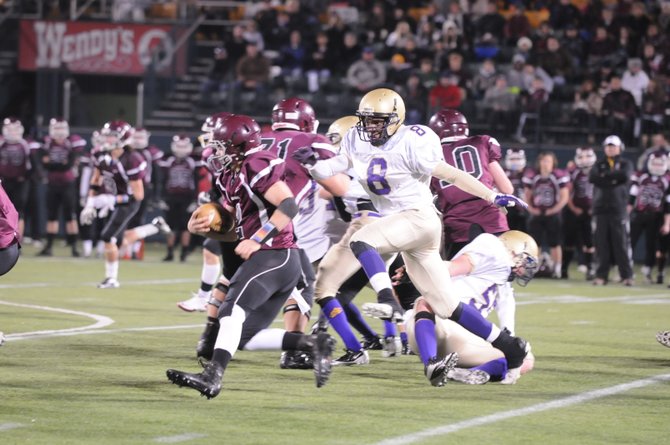 Eight years ago, Christian Brothers Academy's football team achieved its only state Class AA championship when it beat Ray Rice and New Rochelle.
The Brothers were after the exact same scenario in 2012, and got within one game of it - but defending champion Orchard Park stopped them, relying on a mix of power running and timely turnovers to prevail 26-14 in Saturday night's state semifinal at Sahlen's Stadium in Rochester.
A win here, and CBA would have faced New Rochelle, who knocked off Shaker 28-21 in the other semifinal, in next Sunday's title game in the Carrier Dome. Instead, the Brothers saw a magical 11-1 season end in a game where it made too many mistakes to get away with.
Orchard Park relied on its diverse running game to subdue CBA. Mitchell Wilson gained 178 yards and scored all four of the Quakers' touchdowns, while quarterback Ben Holmes proved effective running the option as he gained 175 yards on the ground.
As that went on, OP's defense, by limiting the Brothers to 17 yards on the ground, forced J.R. Zazzara, fighting off a knee injury, to go entirely through the air to carry CBA's offense. And while he threw for 276 yards, Zazzara only completed 12 of 30 pass attempts and threw three interceptions.
It was the first of those interceptions that put the Quakers in control early in the second quarter of a 0-0 game. Jett Modkins picked off a pass and returned it deep into CBA territory, leading to Wilson's first TD, on a five-yard run.
Holmes, on OP's next possession, broke free for a 49-yard run, setting up the Quakers' second score as, again, Wilson found the end zone from one yard out.
Trailing 14-0, the Brothers finally got something positive on the offensive end when Zazzara found Andre Dowdell for 35 yards, leading to an eight-yard TD pass to Radziewicz with 1:21 left in the half to make it 14-7.
(Continued on Next Page)
Prev Next
Vote on this Story by clicking on the Icon