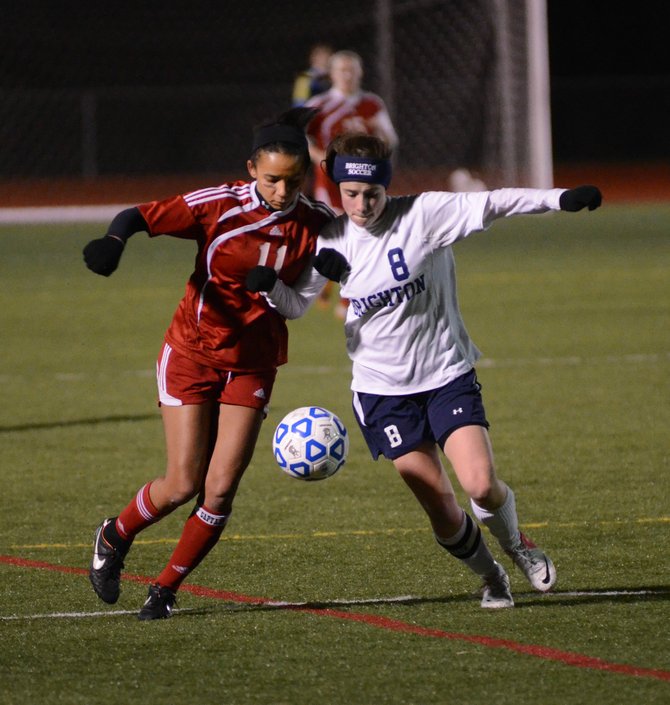 An exciting and improbable journey for the Jamesville-DeWitt girls soccer team will end in the most dramatic way possible - with a state Class A championship on the line.
The Red Rams got to the title game by fighting past Section V champion Brighton 1-0 in Saturday's state semifinal game at SUNY-Cortland.
For the third time in the 2012 post-season, J-D prevailed by a 1-0 margin by scoring the first half and relying, again, on its stellar defense to protect that slim margin. It had done the exact same thing to beat Whitesboro in the Section III final and knock off its nemesis of the past three years, Burnt Hills-Ballston Lake, in the regional round.
Brighton, like, J-D, was in the state final four for the first time in the program's history, having overcome an 0-2-2 start to earn this berth in Cortland. But the Barons were short-handed, as one of its top players, sophomore Charlotte Williams, was in Florida, auditioning for U.S. Soccer national teams.
This gave the Red Rams' defense, again led by Caroline Kopp, Maggie Austin, Maddy Frank and Julia Slisz, a chance to concentrate on Brighton's leading scorer, Hannah Wadsworth, and throughout the game Wadsworth and her front-line mates were well-contained.
Meanwhile, J-D again found a way to get on the board in the early going. Midway through the first half - the 22nd minute, to be exact - Jessica Holmes took a pass from Alex Fontana, and from 20 yards out Holmes drilled a shot that clanged off the left post and found its way into the net.
Once more, J-D had a one-goal margin to protect. Once more, it could not add to it, despite controlling possession late in the first half and early in the second half, too. Fontana had the best chance to make it 2-0 in the 62nd minute, but pushed a point-blank shot wide.
(Continued on Next Page)
Prev Next
Vote on this Story by clicking on the Icon