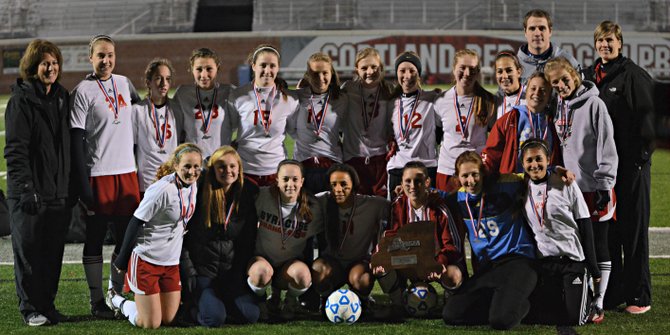 What was already a historic season for the Jamesville-DeWitt girls soccer team would feel complete if it could claim a first state Class A championship.
But an opponent with a trove of titles to its credit, South Side, prevented the Red Rams from realizing its ultimate dream, prevailing 2-0 in Sunday's Class A state final at SUNY-Cortland.
Even with the defeat, head coach Hayley Nies said her players went far beyond what anyone imagined they would do.
"You hope it happens one time," said Nies. "This year, everything lined up for us. It's a huge accomplishment. I'm happy with what we did."
Nies' senior captain, Maddy Devereaux, agreed. "We didn't have high expectations at all," she said. "Making it all the way here is something for which we should hold our heads up."
The difference in what these programs have accomplished to date was vast. J-D, playing in its first-ever state title game, was trying to upend a South Side squad from Rockville Centre, Long Island, that had previously won 16 state championships, more than any other girls soccer program in New York.
To pull this off, the Red Rams had to count on the same tough, relentless and consistent defense that had brought them this far, because the Cyclones intended to attack from the moment the game kicked off.
That's exactly what South Side did, unleashing a series of efficient, accurate passes in a series of early pushes to the net. The Rams deftly turned away those early looks, but the Cyclones kept attacking, J-D rarely able to make its own runs.
In the 15th minute, South Side made another push, and a pass from the left side by Christina Klaum got mishandled by J-D's back line, and when goalie Allison Butler tried to grab it, Michaela Lynch poked it past her into the net, and the Cyclones led 1-0.
(Continued on Next Page)
Prev Next
Vote on this Story by clicking on the Icon