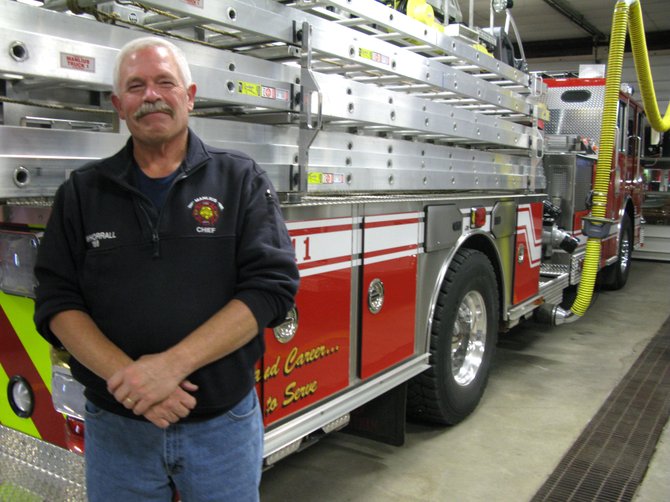 Manlius — Manlius Fire Chief Paul Whorrall is tired of seeing the village he's lived in for 60 years turn into a "laughingstock." So he's hoping he can be the catalyst for change and become the new mayor of Manlius this March.
"Issues need to be settled," Whorrall said. "It doesn't have anything to do with me running for mayor. There are issues of how people are being treated and they need to stop or else this village is never going to be back to where it should be."
Whorrall knows a thing or two about the village of Manlius. He joined the fire department in 1972 and was elected Fire Chief just six years later. He's been a little league coach, postal worker and Manlius village trustee.
His announcement for candidacy at last week's village board meeting was somewhat buried beneath the explosion that followed former Manlius Parks and Recreation Director Kristen Hansen's announcement of her "workplace violence" claim against Mayor Mark-Paul Serafin. For Whorrall, though, the outburst was more refreshing than anything else.
"When everybody erupted like they did, it made me think, 'You know what? People do care. People do know what's going on, and they're finally speaking up."
And Whorrall said his first priority if elected is to make sure not only that everyone in village government feels comfortable speaking up, but ensuring that everyone will work together and enjoy coming into work once again.
"I'd get all the department heads together and say, 'This is what you're going to get from me, and this is what I'm going to expect from you, and we're going to work together,'" he said. "I want for everyone to enjoy coming to work and do their jobs without worrying that something's going to happen to them."
Another top priority on Whorrall's list is to make sure that the entire board of trustees is treated fairly and with respect. He believes that without a copasetic village board, very little will be accomplished.
(Continued on Next Page)
Prev Next
Vote on this Story by clicking on the Icon