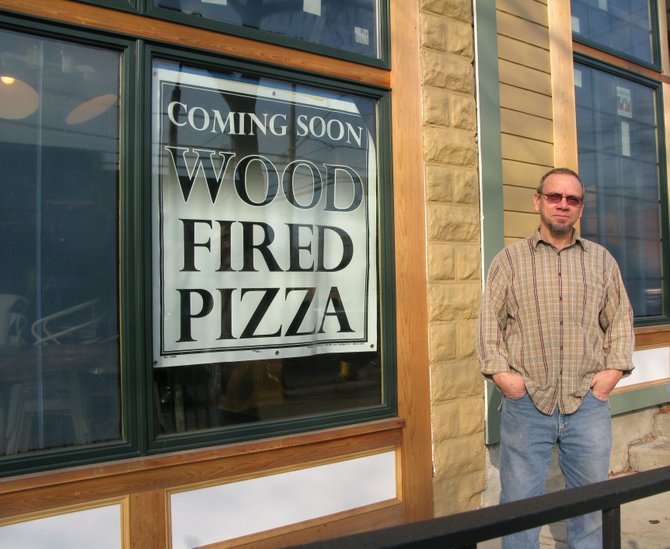 Manlius — John Freightenburgh isn't afraid to be different. And his new restaurant on East Seneca Street in the village of Manlius, Ironwood, is breaking the stereotype of what many people think of when they think of a pizza place.
"There is nothing like this in the village," he said with a smile. "When people think of pizza they want chicken wings and football … we're gonna be the opposite of that."
To begin, his business started in a fairly unique way — you may have seen him serving pizza by the side of the road near Sno Top in the village of Manlius. The former construction worker started cooking it out of the back of his truck, with the help of his trusty wood-fired oven.
"It all started when I was thinking about putting one of these ovens in the backyard," he said. "My wife said, 'How often are you going to start a fire and make a pizza?' So I started doing research on those ovens and got obsessed with it. I've been living, breathing and sleeping pizza for the last three years."
And Freightenburgh is using the skills and knowledge he's amassed over the past few years to bring something completely new to Central New York — a real Naples style pizza. His pizza will come in one size only: 12 inches. Almost all of the ingredients are from Upstate New York, including goat cheese, organic lettuce and more.
"At other pizza places around here you get three cheeses and the cheese is half an inch thick, and it stretches and drips all over," he said. "With us, the cheese is like a topping. It's placed around the pizza, it's not covering it."
But he said he won't skimp on the flour and tomatoes. Those are coming straight from Italy, he said, because you can't get the same quality of those ingredients around here. Freightenburgh has been experimenting with different pizza styles for the past few years and he knows what works when it comes to pizza, and what doesn't.
(Continued on Next Page)
Prev Next
Vote on this Story by clicking on the Icon