Manlius — KeyBank held a ribbon cutting ceremony on Monday, Nov. 19, to celebrate the opening of the new Manlius branch at 7670 Highbridge Road. The 3,900 square-foot branch opened for business in late September and features four teller stations, five private offices, two drive-up teller windows, a drive-up ATM and an eight-seat conference room that is available for public use.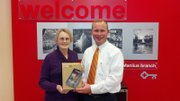 KeyBank officials were joined by local business owners, KeyBank clients and Manlius community members. Winners of KeyBank's "You Choose, Manlius!" promotion, which asked residents to vote on their favorite Manlius non-profit organizations were also announced during the event. The winners of the promotion and cash prizes of $1,000 and $500 were: Manlius Senior Centre ($1,000); Manlius Library ($1,000); Fayetteville-Manlius Crewsters ($1,000); Manlius Historical Society ($500); Fayetteville-Manlius Community Outreach and Food Pantry ($500); Fayetteville-Manlius Pop Warner ($500); and Manlius Lions Club ($500).
"Our branches are designed and located to enhance our delivery channels, to be good neighbors and to fit compatibly and conveniently in our communities," said Stephen Fournier, president of KeyBank's Central New York District. "The Manlius branch does just that, and 'You Choose, Manlius!' really shined the spotlight on some local nonprofits that make a different in the Manlius and Fayetteville communities."
In addition to the ribbon cutting, KeyBank held a community celebration day on Saturday, Oct. 13, which included family friendly activities, from games and prizes to face painting, a strolling magician, pumpkin decorating and a kids' photo station. Radio personalities Ted and Amy of 93Q also made an appearance, and Key held a drawing for an Amazon Kindle Fire, which was won by Carol Davenport of Manlius.
Services offered at the branch include retail and business banking, private banking, investment services and mortgage lending.
Branch hours are 9 a.m. to 4 p.m. Monday through Wednesday; 9 a.m. to 5 p.m. Thursday; 9 a.m. to 6 p.m. Friday; and 9 a.m. to 12 p.m. Saturday.
Vote on this Story by clicking on the Icon