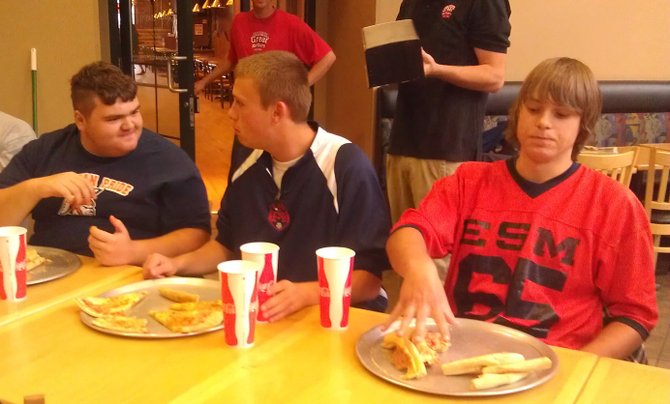 Fayetteville — Ten athletes stepped up to the plate Saturday, but they weren't playing baseball.
Two teams of five — one from East Syracuse Minoa Central High School and the other from Fayetteville-Manlius — set out to eat the most pizza in 10 minutes at Great Northern Pizza Kitchen in Fayetteville. The contest was sponsored by Great Northern Pizza as part of the Chamber of Commerce's "Discover Manlius" campaign. Each competitor was given their own 2 pound, 14 ounce cheese pizza to tackle.
At the end of the 10 minutes, the uneaten pizza from each team was brought together and weighed — the team from ESM had beaten F-M by only a few ounces. For their efforts, team ESM received gift cards to Great Northern Pizza.
Team ESM consisted of Matt Pede and Mike Gorman, representing the football team; Erik Langlois, representing the boys soccer team; Tom Gorman, Mike's dad, who filled in for one of two absent competitors; and F-M alternate Curtis Coughlin, who filled the other open spot. Team F-M was made up entirely of J-V football players: Jake Welker, A.J. Baynes, Erik Robinson, Ian Adler and Mike Ovadias.
Great Northern Pizza, located in the Fayetteville Towne Center, will host another pizza eating contest between the employees of Fayetteville Towne Center at 3 p.m. Saturday.
Vote on this Story by clicking on the Icon