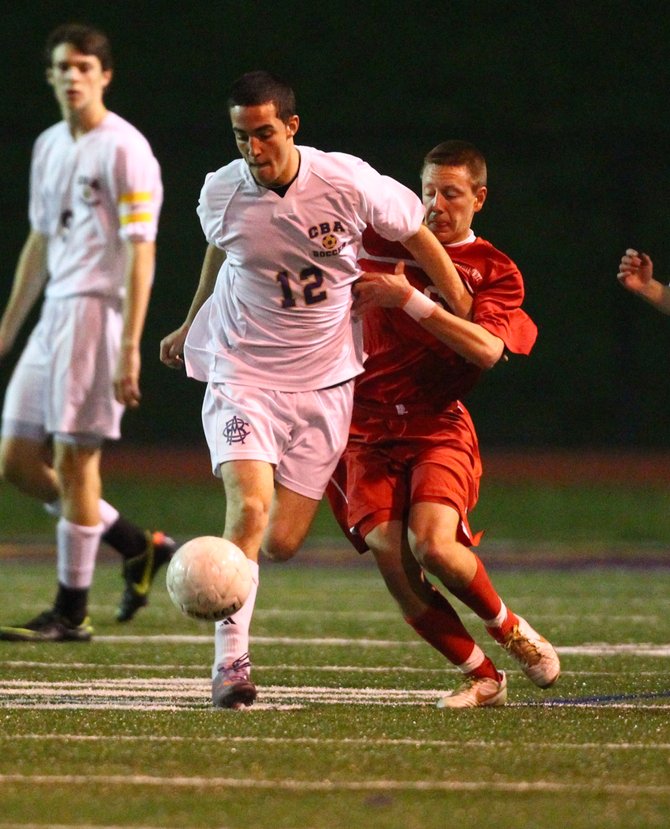 DeWitt — Tom Canfield ripped a goal past diving Christian Brothers Academy goalkeeper Mike Smith and into the net before being dog piled on the far side of the field by teammates.
For no. 7 seed Jamesville-DeWitt, the score was arguably the most crucial of the season, tying No. 2 seed CBA 1-1 in the 55th minute of Thursday night's Section III Class A boys soccer quarterfinal.
But the emotional crescendo proved too good to be true, as Brothers freshman Jake Dinger scored just two minutes later. The goal was ultimately the game-winner.
"I didn't want to see J-D because I knew how good they were," CBA head coach Joe Papaleo said. We just (sneaked) out with the win."
CBA's 2-1 victory propels the 13-4 Brothers into the Class A semifinals against No. 6 seed Whitesboro, who knocked out no. 3 seed Watertown by that same 2-1 margin.
Despite the result, Red Rams head coach Joe Roach was pleased with his team's performance. The Brothers outscored J-D 10-1 combined in their two regular-season meetings, including a 6-1 stomping one week ago.
J-D limited the Brothers to just three corners and held the powerful CBA offense in check. Unfortunately for Roach and company, they just fell short.
"They don't have a weakness, but we were trying to pack in a little bit in the back and make sure our wing midfielders got back and defended a little bit harder than they had," Roach said. "And it worked."
Senior forward Andrew DePerro, a big factor in both of those wins, in the regular season, tallied his 28th goal of the season in the 13th minute to give CBA an early 1-0 lead and also move into a tie for second among Section III goal scorers.
The Brothers also outshot the Red Rams 10-6, forcing J-D junior goalie Bradley Carr to make eight saves, while Smith needed just three stops to maintain the shutout early.
(Continued on Next Page)
Prev Next
Vote on this Story by clicking on the Icon