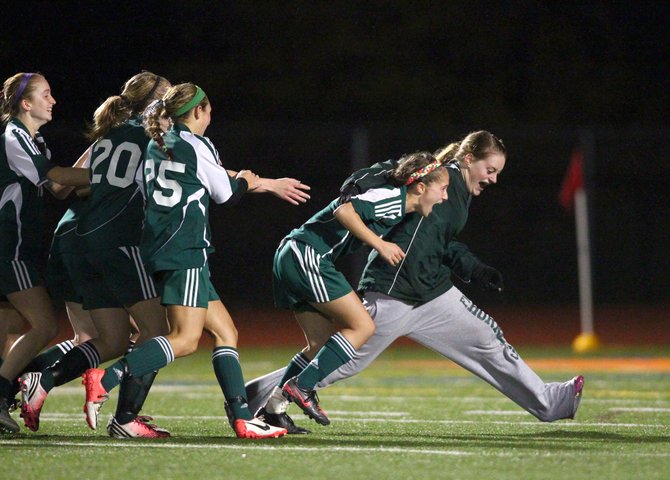 SYRACUSE — Early in Tuesday night's Section III Class AA girls soccer semifinal at Nottingham High School, Fayetteville-Manlius junior midfielder Alexa Restante scored to put her team in front of Baldwinsville.
More than two hours later, she did so again, at the tail end of a tense penalty-kick shoot-out, and sent the Hornets to the brink of its first sectional title since 1996.
In between, there were all sorts of tension, excitement and momentum shifts as F-M and the top-seeded Bees played to a 1-1 draw through regulation and four overtime periods without resolving anything.
So the no. 4 seed Hornets, who had lost two regular-season meetings to B'ville (by margins of 2-1 and 3-2), had to get through the unmatched tension of penalty kicks.
For five rounds, neither side blinked. Cheyenne Hall, Katherine Millet, Alexis Muraco, Emily Murray and Katie Randall all found the net for F-M, answering successful conversions from the B'ville quintet of Emma Firenze, Cassidy Bruen, Hailey Couchman, Tianna Coon and Erin Nagle.
After five rounds, the teams took a brief break as new players were put together for the sudden-death portion of the shoot-out.
Perhaps that break added some doubt for B'ville's sixth shooter, Taryn Guinta, or more importantly, gave F-M goalkeeper Nina Quigley a chance to regroup and regain her focus after not stopping any of the first five attempts.
Either way, when Guinta charged forward and took her shot, Quigley, perfectly anticipating the shot, went to her left and made a clean save.
Now it was Restante's turn. She had burst into the spotlight 3:05 into the game when she pounced on the rebound of shots by Hall and Muraco that both went off the post. Before Bees goalie Jaclyn Hingre could track it down, Restante had put the rebound in the net.
That 1-0 lead didn't last even nine minutes, as Bruen answered with the tying goal on a solo charge to the net. And it stayed there, even, until the climactic shoot-out, when Restante found herself facing Hingre one more time.
(Continued on Next Page)
Prev Next
Vote on this Story by clicking on the Icon