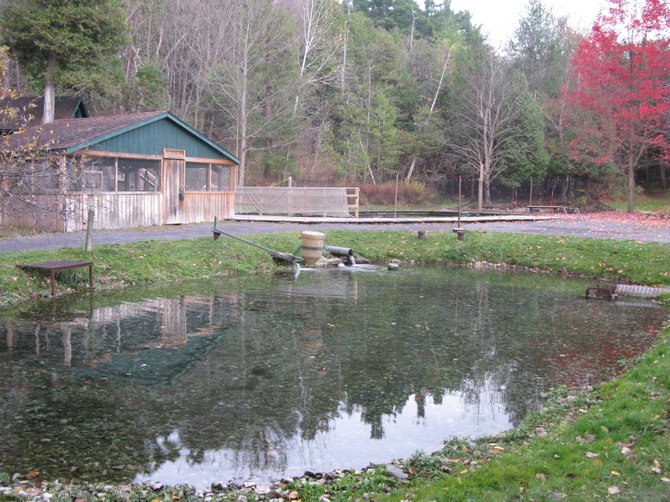 You've probably been to the Swan Pond or Beard Park Mill Run, or maybe even Founder's Park if you've ever spent time in the great outdoors of the Manlius. However, you may be surprised to find that there's another park off the radar in the middle of the village as well.
Perry Springs Park has been owned by the Village of Manlius since the 1930s. Now it supplies more than 100 gallons of water per day to both the Swan Pond in Manlius and the Beard Park pond in Fayetteville, located next to Wellwood Middle School. In addition, it's also the site for the Manlius fish hatchery, which is used to raise trout for the Swan Pond.
But perhaps the most unique thing about Perry Springs Park is that it doesn't all belong to Manlius. Because of the park's location in the middle of F-M road, half of it is owned by the Village of Manlius, and the other half belongs to the Village of Fayetteville.
The park is nestled at the end of Park Drive in Manlius, behind where the old Express Sales Lincoln Mercury car dealership used to be located. In the 1990s, two nature trails for hikers were constructed as well as benches for those who prefer to sit back, relax and enjoy nature.
Those benches have been seeing major upgrades in the last few months. This past summer, the Manlius Village Board approved an idea from local Boy Scout Alex Holden to renovate the park. The Boy Scout recently constructed two benches in the park for his Eagle Scout project.
And now Noah Chrysler of troop 369 has a similar plan. On Tuesday, Oct. 23, the village board approved his proposal to add more hiking trails, repair the bridge that overlooks the pond and add an additional bench to the park as his Eagle Scout project.
(Continued on Next Page)
Prev Next
Vote on this Story by clicking on the Icon