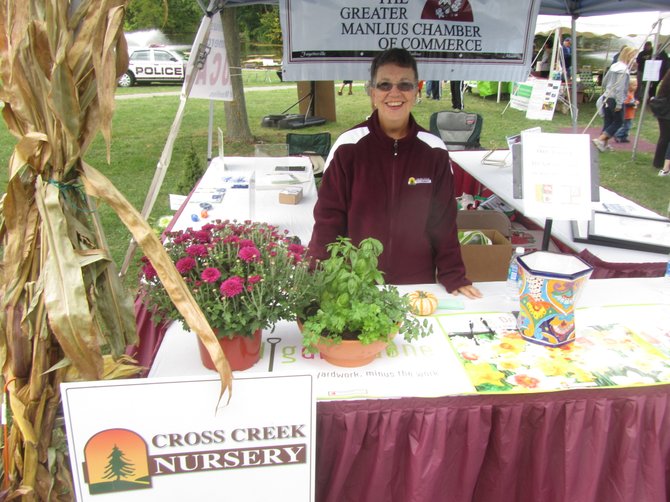 Manlius — Judy Dardzinski wants you to "Discover Manlius."
"Christopher Columbus discovered America, now let's discover the town of Manlius," she told the Manlius Town Board at their meeting Wednesday, Sept. 27.
Dardzinski, chair of the Greater Manlius Chamber of Commerce's "Discover the Town of Manlius" committee, was promoting the Chamber's buy local campaign, which kicks off Friday, Oct. 5, and runs through Sunday, Oct. 14.
"Many people come to the Chamber and they ask, 'What is the Chamber doing for me?' So this is our answer," she said.
She handed out the campaign's passport booklet, which can be picked up at the Fayetteville and Manlius Tops locations. All are invited to take the passport to any of the 60 participating businesses and have it stamped. The number of personalized business stickers you collect will make you eligible for one of three prizes in a raffle: collect 10 to 19 stickers and be eligible for the $50 prize; tally 20 to 39 for a chance to win $150; or amass 40 to 50 stickers for a chance to win the $200 grand prize.
Prizes will be doled out in "Manlius Bucks," which will be issued in $10 increments and are valid until Dec. 31 at any of the campaign's 60 participating businesses.
Throughout the campaign, those businesses will display the Discover the Town of Manlius logo in their windows.
"When you get involved with all the different businesses in our area you find out how important it is for you and citizens of our area to buy local," Dardzinski said. "Who does everybody go to when they want a sponsor? Or they want a donation? It's not the big guys."
The campaign gets started with events at The Shoppes at Towne Center in Fayetteville throughout Columbus Day weekend. For more information visit manliuschamber.com or call 637-4760.

(Continued on Next Page)
Prev Next
Vote on this Story by clicking on the Icon