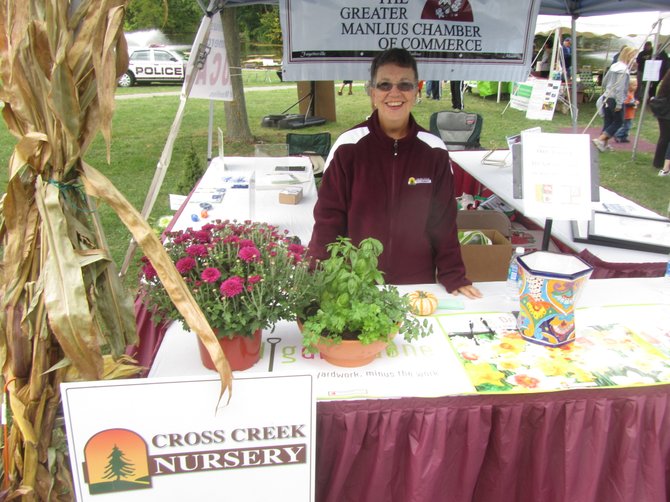 continued — "Please come out and support our businesses," Dardzinski said. "They're supporting you."
Discover the Town of Manlius
The Chamber of Commerce will host the following events:
Friday, Oct. 5 (Fayetteville Towne Center Gazebo)
5:30 PM: The F-M Pop Warner Cheerleaders perform a routine.
6 – 8 PM: The Party Nuts perform.
Local restaurants will offer special "buy local" meals and discounts.
Saturday, Oct. 6 (Fayetteville Towne Center Atrium)
3 PM: Great Northern Pizza will sponsor an eating contest between ESM and F-M students. Representing ESM: Matt Pede, Mike Gorman, Erik Langlois, Danielle Douglas and Natalie O'Brian. For F-M: Jake Welker, A.J. Baynes, Erik Robinson, Ian Adler, Mike Ovadias and alternate Curtis Coughlin.
4 – 5 PM: Lego Mindstorms robots and creations: FIRST Lego League Senior Solutions Challenge. Andrew Leary will lead the FTC Team 4957 as they demonstrate their competition robot. Also enjoy an interactive Maker Lab by Fayetteville Free Library.
Saturday, Oct. 13
11 AM – 1 PM: Take a free dance lesson with Senior Guzman at Guzman Dance Studio in Fayetteville.
3 PM: Great Northern Pizza will sponsor another eating contest between the employees of Fayetteville Towne Center.
Ongoing
—The Fayetteville and Manlius Tops locations invite you to stop in and guess the weight of the large pumpkin on display. Prizes will be awarded at each store. Guess must be submitted by 5 PM Oct. 14.
—Cazenovia Jewelry in Fayetteville Towne Center is asking people to guess how many stones it took to create the picture display in the side window. A prize will be given to the closest guesser. Guess must be submitted by 5 PM Oct. 14.
—If your birthday falls between Oct. 5 and 14, present proof of birth to Pascale Cafe & Bakehouse, 210 Brooklea Drive, Fayetteville, for a free regular or decaf coffee, or to UNO's, 520 Towne Drive, Fayetteville, for a free snack hour appetizer.
—The Matilda Josyln Gage Foundation, 210 E. Genesee St., Fayetteville, invites you to come "write on their walls."
—Many participating Chamber members will offer specials, samples and demonstrations throughout the week.
Vote on this Story by clicking on the Icon