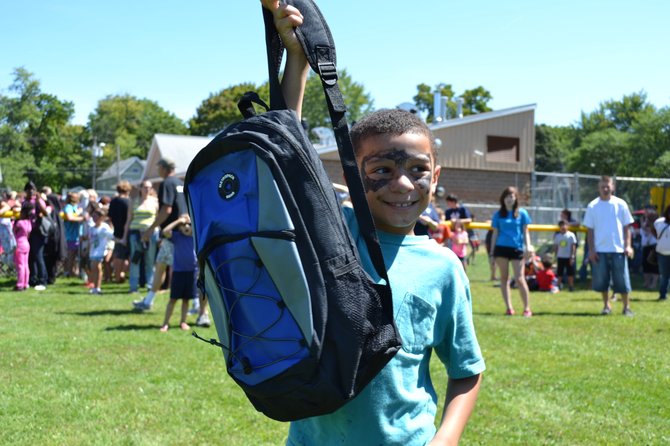 East Syracuse — When Dale Johnson was growing up on Heman St. in East Syracuse, he remembers that he wasn't always as prepared for school as some of his classmates.
"Times were tough," said Johnson, the president of Tillie's Touch, a not-for-profit which provides school supplies and sports equipment to children in need. "There were years when my family struggled. I went to school some years and didn't have the 'right' clothes or school supplies. And I quickly picked up a resentment towards school."
Johnson recalls that he began to skip school and attended only when he felt like going. And that's why he started the ESM Youth Day Picnic backpack giveaway five years ago – so that the kids who attend ESM schools today don't go down the same road as he did.
"Kids need to be excited about school, especially in this day and age, they need to go into school and do well," he said. "A lot of these kids have so much working against them right now. If they live in a poverty-stricken house, they can't afford to buy school supplies. So we want to make sure they know that somebody cares for them. We care about these kids and we want them to succeed in school."
Johnson originally founded Tillie's Touch to provide sports equipment to underprivileged children in the inner city. Tillie's Touch is named after his daughter, Abagail Tillie Johnson, who is starting eleventh grade at ESM High School this year. Johnson's son, Matthew, who also goes to school in the ESM district, serves as the director of sales and marketing.
Since Tillie's Touch began, Johnson has not only held the backpack giveaway each August – for the past few years, the organization has sponsored about 50 families and provided Christmas presents for the children. He also reached out to some refugee families in Syracuse and started the Tillie's Touch soccer club team. Tillie's Touch provides the players with sports equipment, the opportunity to play indoor soccer (which is fairly expensive) and transportation to the practices and games. Johnson said he believes succeeding in school and sports go hand-in-hand.
(Continued on Next Page)
Prev Next
Vote on this Story by clicking on the Icon