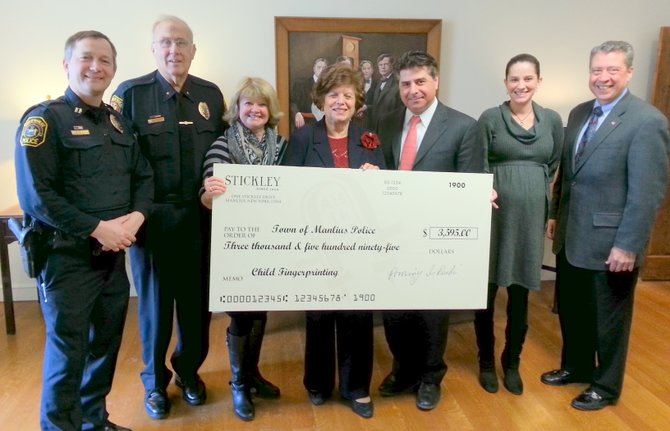 Manlius — The Town of Manlius Police department is the latest recipient on Stickley furniture's list of organizations for charitable donations. On Feb. 13, Stickley CEO Aminy Audi and President Edward Audi presented Manlius Police Chief Fran Marlowe and Officer Brian Ackerman with a check for $3,595 to be spent on new equipment for children's fingerprinting, which the police department does for local children at events during the year.
The Manlius Stickley location has a social activities committee made up of employees whose mission is to raise money to donate to non-profits and charitable organizations across Central New York. In the past, Stickley has donated to the Galisano Children's Hospital, the SPCA, and the American Cancer Society. But this time, Stickley human resources coordinator Beverly Manning says that the committee decided to look for an organization a little closer to home, in the community they love.
"We wanted to give something back to our community that has been so good to us," she said. "We wanted to do something a little more meaningful."
Through a 50/50 raffle, Stickley is able to give out donations every other month, at least. In the case of the Manlius Police Department, the social activities committee was able to raise $1,750 and CEO Aminy Audi agreed to match the donation and contribute the other half. Between the two, Stickley was able to come up with enough money to cover all costs for the new fingerprinting equipment.
The police department's current child fingerprinting equipment is about ten years old and has needed to be replaced for a while.
"It's meaningful that even if it's just a little bit, we can help our community if we can," said Manning.
Vote on this Story by clicking on the Icon