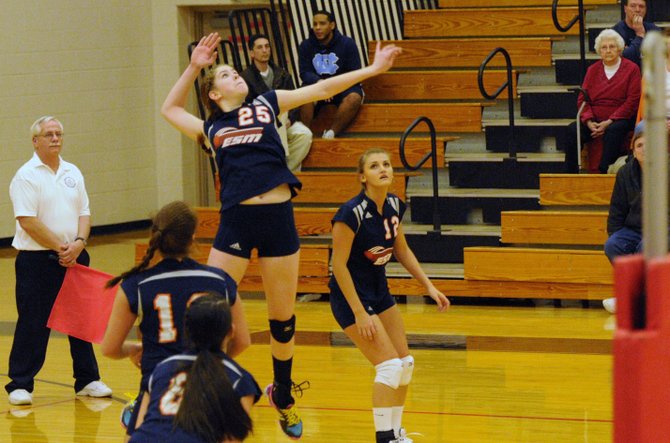 Chittenango — Jerime McHerron called his seniors together by the visitor's bench Saturday night in the Chittenango High School gymnasium.
The East Syracuse-Minoa girls' volleyball coach bent his knees slightly as the players formed a circle with him. Five minutes earlier, the top-seeded Spartans had dropped the Section III Class A championship match in four sets to No. 2 seed and defending champion Whitesboro.
But McHerron wasn't visibly disappointed. He was smiling, and laughing as he addressed each of the seniors. It had been a good run. They just fell one game short.
"I told them (to not) look at this as something negative," McHerron said. "'We had a great season and we're the runners-up. We made it to the finals. We're here to prove to our division and our league that we made it this far."
After dropping the first set 25-19, ESM (18-2) battled to take the second 25-21 before dropping the third (25-19) and fourth (25-17) sets to the Warriors.

Rachel Aird led the Spartans with 13 kills, seven blocks and four digs, but despite her best effort, Whitesboro (16-1) earned its second straight state crown. Kaitlyn Shuaghnessy registered 27 assists, Safira Lubenovic added six kills and six digs and Amanda Canorro tallied five kills.
"(Whitesboro) put a lot of pressure on our passing, on our hitting and the whole nature of the game" McHerron said. "We rallied with them, we hung tough with them and I just told (my team) to push for every single point."
Brandi Blaszek was at the center of that disruption. The Warriors setter matched Aird's energy level and finished with 26 kills and 11 digs. Carly Lonczak logged 39 assists and 21 digs, while Mary Pastorelli had 10 kills and 16 digs.
"They came out and they did what they wanted to do," Whitesboro coach Kelly Entwistle said. "They wanted to win back-to-back sectional titles and they accomplished just that. The seniors really deserved it."
(Continued on Next Page)
Prev Next
Vote on this Story by clicking on the Icon