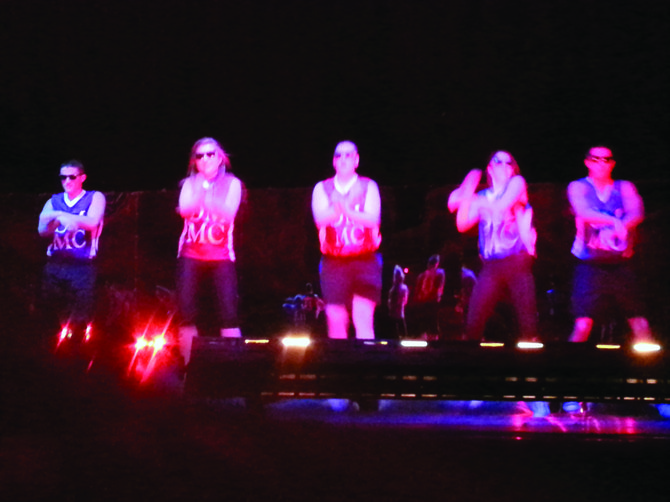 Manlius — Each January, there's one thing that crosses the minds of every Fayetteville- Manlius High School student: Dance Marathon. On Jan. 9, twelve lucky members of F-M's class of 2013 (also known as the Dance Marathon MCs) took to the auditorium stage for the Dance Marathon Assembly in order to get the school pumped up for the event, and more importantly, for the fund raising for Camp Good Days and Special Times that precedes it.
Camp Good Days is a residential camp facility for children, adults, and families with a diagnosis of cancer, sickle cell anemia, or other challenges. It's located on Keuka Lake and is now in its 34th year of providing a summer camp experience for people of all ages for free of charge. And Regional Director Renee DeVesty says that F-M students' contributions are the reason why Camp Good Days is still able to make summer camp free for everyone.
"The fund- raising] is critical. We could not continue Camp Good Days without the F-M students, faculty, and community that stand behind Dance Marathon. Families going through a cancer diagnosis have so many bills they have to pay- it takes such a toll financially on the family. So this is a way for our campers to enjoy the summer camp experience without being a burden on their families."
F-M has been involved with Dance Marathon for 22 years, and has raised over $1 million for Camp Good Days during that time. The school surpassed their goal by $3000 last year and raised $133,000. F-M has been the largest non- corporate donor to the camp for many years.
During the assembly, 11 year old Mia Bresadola spoke to an auditorium packed full of students and staff about why camp is so important to her.
"It means a lot, because you know that everyone at camp is there for you when you're going through whatever you're going through. I love spending time with my counselors."
And some of those counselors are former F-M students. The bond between Camp Good Days and the school doesn't break after Dance Marathon is over- many students attend camp themselves for years as counselors.
F-M students will be collecting money for the next two months until Dance Marathon begins at noon on March 2.
Vote on this Story by clicking on the Icon