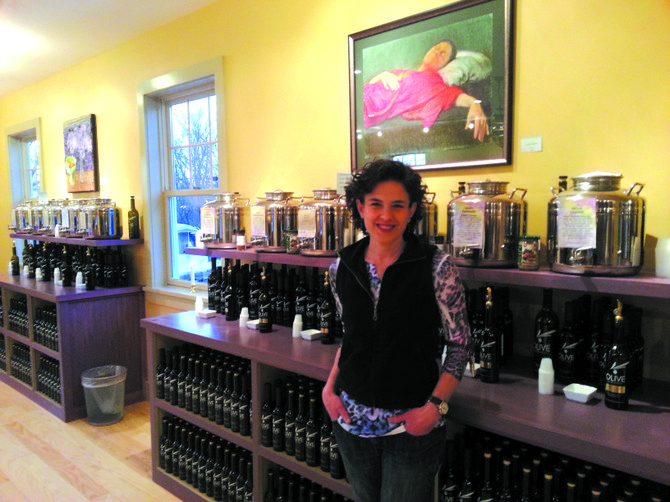 Fayetteville — You may use olive oil as your salad dressing, or to cook with, or to dip your bread in. Michelle Watts, the owner of Olive on Brooklea, is pushing the envelope with her discovery of olive oil topping over ice cream- something she has lined up waiting to be sampled at her store.
Some may be thinking- gross! But Watts' oils aren't like what you normally see at the grocery store. She has nearly 50 different varieties of flavored olive oils and vinaigrettes – ranging from wild mushroom and sage, to maple, to espresso, to coconut, to tangerine. The two most popular ice cream topping combinations are blood orange olive oil mixed with dark chocolate vinaigrette and lemon fused olive oil mixed with raspberry balsamic, she said.
"There aren't limitations for what you do with them. I do pretty much everything. Ice cream is a great way to have people sample the olive oils and inspire new ideas."
If you're at the store on a good day, you may catch Watts making popcorn topped with chipotle olive oil and chipotle honey rub. She assures, however, that her oils and vinaigrettes are great on salads too. Her most popular seller is the more traditional organic Tuscan herb, which she swears is perfect for dipping bread.
Watts, a former yoga instructor, says she started to consider opening her own store after she visited a similar upstate New York store and loved the concept. She then read a book called Extra Virginity by Tom Mueller and decided she wanted to make sure that Central New Yorkers had a place where they could get fresh olive oils with no chemicals.
"A lot of farmers that have been producing olive oil the right way are being put out of business by big corporations. They're doing things to the olive oil- like diluting it with other oils. They're using rancid olives and using chemicals to make it smell and taste okay. Not only are they fooling us when they label it as 'extra virgin olive oil', but that oil doesn't have the health benefits or fresh flavor that you find when you have true olive oil" she said.
(Continued on Next Page)
Prev Next
Vote on this Story by clicking on the Icon