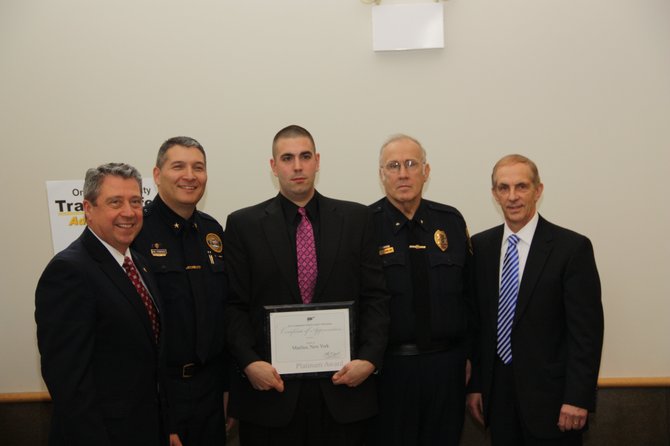 The Onondaga County Traffic Safety Advisory Board's 25th annual awards ceremony was well- represented by residents of the Eastern suburbs. Town of Manlius police officers Jonathan Morticelli and Benjamin Kapusta were recognized, as was Dewitt police officer Christopher Fuller. East Syracuse was awarded firstly for its police department, which received the Gold Award and also for a PSA about drinking and texting written and shot by ESM high school students Matthew Pede and Chris Steinberger.
In the small police agency category, Officer Morticelli was awarded for his 28 DWI arrests. Officer Kapusta was recognized for issuing 128 occupant restraint tickets in Onondaga County. Officer Fuller received an award in the Aggressive Criminal Enforcement category, which were presented to officers who went above and beyond normal vehicle and traffic stops. He made an arrest this year that later led to a 2nd degree rape arrest.
The village of East Syracuse police department was the recipient of the 2012 Gold Award, which is an honor for communities that implement programs and projects that demonstrate superior efforts at addressing local traffic safety issues. The Manlius police received a platinum award in the same category.
ESM's Matthew Pede and Chris Steinberger earned the top prize earlier this year for submitting their video to the NYCM Insurance's texting and driving campaign. They were awarded a $15,000 check which was given to the district to improve its high school TV studio, among other things.
Vote on this Story by clicking on the Icon