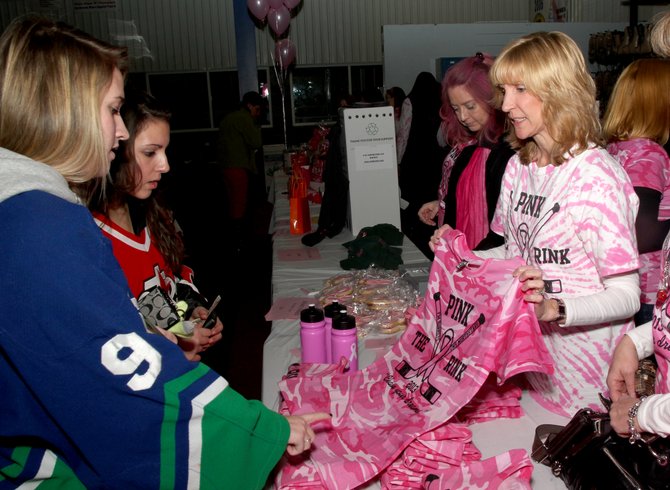 Cicero — They didn't get the on-ice result they were hoping for but organizers of the Thursday's second annual Pink the Rink fundraiser for breast cancer research were all smiles anyway.
The event took place at the Division I hockey game between host Fayetteville-Manlius and Cicero-North Syracuse. The No. 1 state ranked Northstars eked out a 4-2 win over the Hornets.
As the event's name suggests, pink was the color of choice at jam-packed Cicero Twin Rinks. FM players were decked out in pink uniforms. They also had pink taped socks and pink skate laces. Many crowd members braved the chilly conditions by wearing pink tie-died t-shirts they purchased in the lobby.
The night's bottom line was that all proceeds went to the Carol M. Baldwin Breast Cancer Research Fund of Central New York.
The game was played to honor the memory of Nancy Chase. The Manlius was resident was a school teacher at the Enders Road School. Chase's two sons played hockey for F-M. She passed away prior to the start of the 2011-12 hockey season.
"We just thought this was something we could do to give back for her memory," event organizer Valerie Capriotti said. "She was a wonderful person that meant the world to everybody in the Fayetteville-Manlius area."
"This is just a little bit of the way we can give back to help fight that terrible disease," F-M's director of athletics Scott Sugar said. "A great sport in hockey, and two great communities to come together."
Sugar said the Hornet players "circled the date of this game at the beginning of the season. It is kind of neat that CNS is number one in the state so it gives hype to the game. This is fun."
The first Pink the Rink event raised "just shy of $10,000," Capriotti said. She said organizers were hoping for more this year, and even more in 2014.
"Next year is going to be bigger," Capriotti said. "We're going to invite a couple extra teams. It may not be a tournament. Just have a few other teams matched up and play on the same day so we get a whole day of hockey."
Vote on this Story by clicking on the Icon